Pictures of Our Artisans
I have had a deep love for Asia and its people since my first trip to meditate in a Northern Thailand monastery when I was 18 years old. When I started Lotus Sculpture in 2000 that connection with Asia has blossomed into pure love! I have known many of our artisans since my very first buying trip in 2000 when the new adventure of Lotus Sculpture just started. Together, the relationships I have with my artisans has grown through the years and they are now like my second family. I take great pride in knowing personally almost all the artisans who make the statues sold in Lotus Sculpture. I invite you to join me on my journey through the remote villages where each statue is made and to meet the artisans who create the sculptures that enrich your homes, temples and lives with grace.
---
Indian Wood Artists
There is a small village in Tamil Nadu that is the epicenter for Hindu wood sculpture in South India. I love spending the day walking around the village peaking into homes full of saw dust and half finished Gods and hearing the constant sound of a chisel being driven into wood. It is great to see the Hindu Gods come alive in front of your eyes.
--- Everything is more difficult than I imagined; the wood is difficult to chisel, you have to gauge how deep of a cut you want by the force of your swing. Made me realize how much work goes into each statue.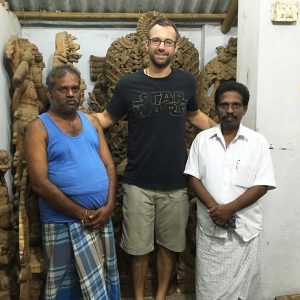 Here I am alongside two of the best wood artists who I purchase the majority of my wood statues from, Natarajan and his brother, Vel.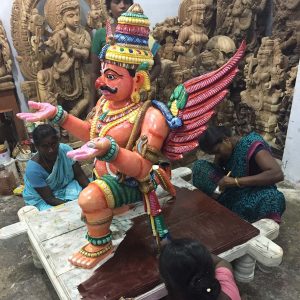 Our wood statuary is the only setting where you find women working along with men in the production of statues. In India, and mostly anywhere in Asia, statue making is typically dominated by men. Here women sand and paint wood statues.
Video of the entire process of wood carving for our wooden statues.
Video of the fine details of Saraswati are carved in the final stages of the carving process.
Video of wood artists carving statues.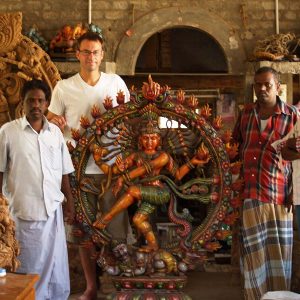 Me with some of the artists.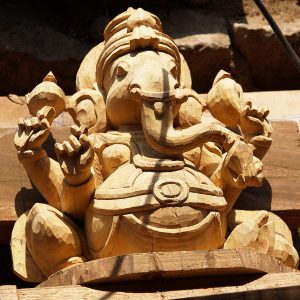 The rough cut statue of Ganesha.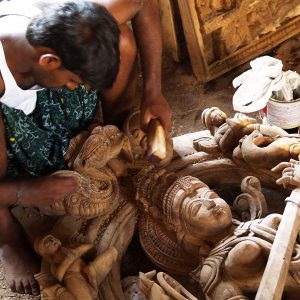 Carving the details of Saraswati!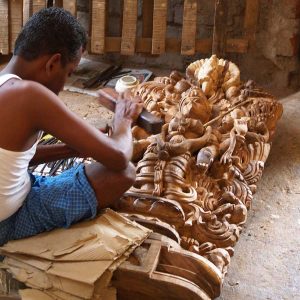 The carvers use a wood block as a hammer into the chisels to cut into the wood. Carving a Hoysala style Lakshmi. The women are usually in charge of the sanding and polishing of the wood statues. Affirmative action has not quite made it to the Indian country side. She was all smiles!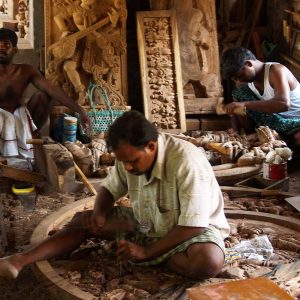 I love the rythmic pounding of the chisels into the wood. A well deserved tea break! Afternoons can be so hot and there is nothing like a hot chai to....???? Well, its delicious!
---
Free UPS Ground Shipping
FREE UPS Ground shipping applies to orders of $300 or more. Items weighing over 150 pounds (including packing materials) will be shipped via freight. Special offer of 35% off freight shipping for a limited time only. International customers will receive a 40% discount off the price of shipping.