When you visit any temple dedicated to the god Shiva, you are bound to see the peculiar form of Lord Bhairava. He is a very auspicious form of Shiva, and represents protection and security. The word Bhairava literally means one who shouts the sound "bai."  "Bai" is an onomatopoeia; it's basically the Indian equivalent for the "ruff" sound used in common parlance, which we associate with a dog barking.  This is an appropriate name for this form of Shiva, since he is either represented as a dog or as accompanied by a dog. In order to enter a temple dedicated to Shiva, you need to have the permission of Bhairava.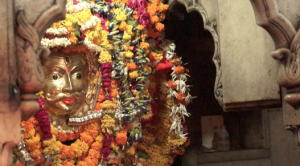 He functions as a protector deity and as a temple guardian. In fact, there is a popular belief that the city of Varanasi (also known as Benares and Kashi) is a temple in and of itself, and Bhairava in his form as Kalabhairava is the gatekeeper. Entering the city of Varanasi is considered to be very difficult, so those pilgrims who do enter the city offer flowers, oil, and food to Lord Kalabhairava as a token of appreciation. Kala means both time as well as the color black. In many popular folktales, Kalabhairava roams the city of Varanasi as a black dog. There are various forms of Bhairava, 64 to be exact. Of these 64 Bhairavas, there are eight distinct forms and eight Bhairava who fall under each of these categories. This Thai Brass statue of Bhairava represents the group of Bhairavas known as Vatuka Bhairava.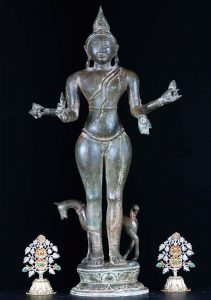 The popular formula for meditation of this form describes this deity as red in complexion with scattered, matted red dreadlocks. He has three eyes and carries a skull cap, trident, drum, and noose. In a temple, this form of Bhairava would be placed in a niche on the outer wall, surrounded by carvings of different forms of Shiva's attendants. This form of the god is nude and his vehicle is a dog. While many people believe that Bhairava is a violent form of Shiva, he is indeed a benevolent form to the sincere devotee. The noose in his upper left hand signifies the bonds we have in the world. Family, wealth, desires, and material objects are all things that bind a man to the world. As such, men and all other creatures bound to these objects and relationships are known as "pashu" or literally those bound by the noose.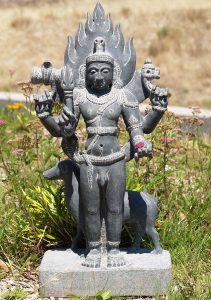 Being unclad, and having no possessions, Bhairava is known as "Pashupathi" or the Lord of those bound by the noose. Devotees who invoke Bhairava in their lives are blessed by him and receive his protection.In some households across India, a statue of either a dog or of Bhairava is installed in the garden or near the front door. Just as he protects the temple, he also protects the house from evil spirits and bad energy.