PREORDER Hand-Carved Stone Devi Tara: Exquisite Detailing for Sacred Spaces 88"
35% Off Freight Shipping

!

-

Calculate Shipping Time & Price
In Stock and Ships in 1-3 Business Days
Calculate Shipping Rates Worldwide
This statue weighs too much to be shipped using UPS or any of our international carriers and will have to be shipped by a freight carrier. We will get you a freight shipping quote for this statue.
During the checkout process freight shipping will not be automatically added to the price. Shipping will be calculated based on the weight of the sculpture and the distance from Oceanside, CA to determine the shipping price. Shipping will then be added to the total after the order is placed and we will email you a new receipt. We get quotes manually so you, the customer, get the best and lowest priced freight quote possible when we quote the shipment to our 10 freight carriers we have relationships with.
Or you can call us directly at 1 (760) 994-4455.
Please call 1 (760) 994-4455 or 866-568-8712 or email us
[email protected]
with any questions about shipping or anything else.
Statue Details
Materials:
Stone, Hand Carved Indonesian Lava Stone from Java
Total Height Including Base:
88 inches or 225 cms
Base Width & Depth:
47 x 37 inches
Weight:
Approximately 3500 pounds or 1590 kgs
Enveloped in detailed finery, Devi Tara sits in the evocative

lalitasana

pose
Adorned from head to toe, her headdress and carved leggings reflect meticulous craftsmanship
Set upon a blooming lotus, her grandeur is amplified, making her an unrivaled garden centerpiece
Devi Tara is hand carved from one block of stone and completely

one of a kind

, you will receive this exact statue in your order

Devi is available for

PREORDER

only and will be shipped when

in the next container after the order is placed

10% OFF All Statues!

Shop Now & Take Advantage of the

Final Sale of the Year!



Behold the majesty of our hand-carved Devi Tara, a testament to artistry and reverence. Designed to inspire and mesmerize, this sculpture showcases the goddess seated gracefully in the
lalitasana
pose, symbolizing her power and elegance. Each detail, from her ornate headdress to her exquisitely carved leggings, exudes sophistication and devotion.
But it's not just about the aesthetics. Her bejeweled adornments, including necklaces, armlets, and belts, are not mere decorations but a celebration of her divine essence. Tara's right hand, gently cupped in the
dhyana
mudra, is a perfect alcove for placing offerings, enhancing your spiritual rituals. Her left hand elegantly holds a lotus stem, its flower blossoming by her ear, signifying purity and enlightenment. Moreover, her right foot, resting upon a large blooming lotus flower, anchors her in the earthly realm while reaching for the divine.
With her natural stone hue, this enormous Devi Tara statue can seamlessly blend into any garden, becoming its spiritual heart and visual focal point. Crafted by skilled lava stone artists of Bali, this piece carries with it not just the story of the goddess but the touch of the hands that brought her to life. It's more than just a statue - it's an embodiment of faith, art, and tradition. An unparalleled addition to Zen meditation gardens, this sculpture stands as an enduring homage to the mother goddess.
About Lava Stone
: The lava stone used for our sculptures was quarried in the volcanic mountains of Indonesia. The lava stone is a solid stone that is perfect for any type of location and weather conditions, hot or cold, wet or dry. The stone is versatile in that it can be colored in a wide spectrum of colors. It can also be polished or unpolished giving giving it a clean or rough feel. In humid conditions if it is left untouched it takes on a very mysterious, antique, worn look like you would see in the temple ruins of south east Asia.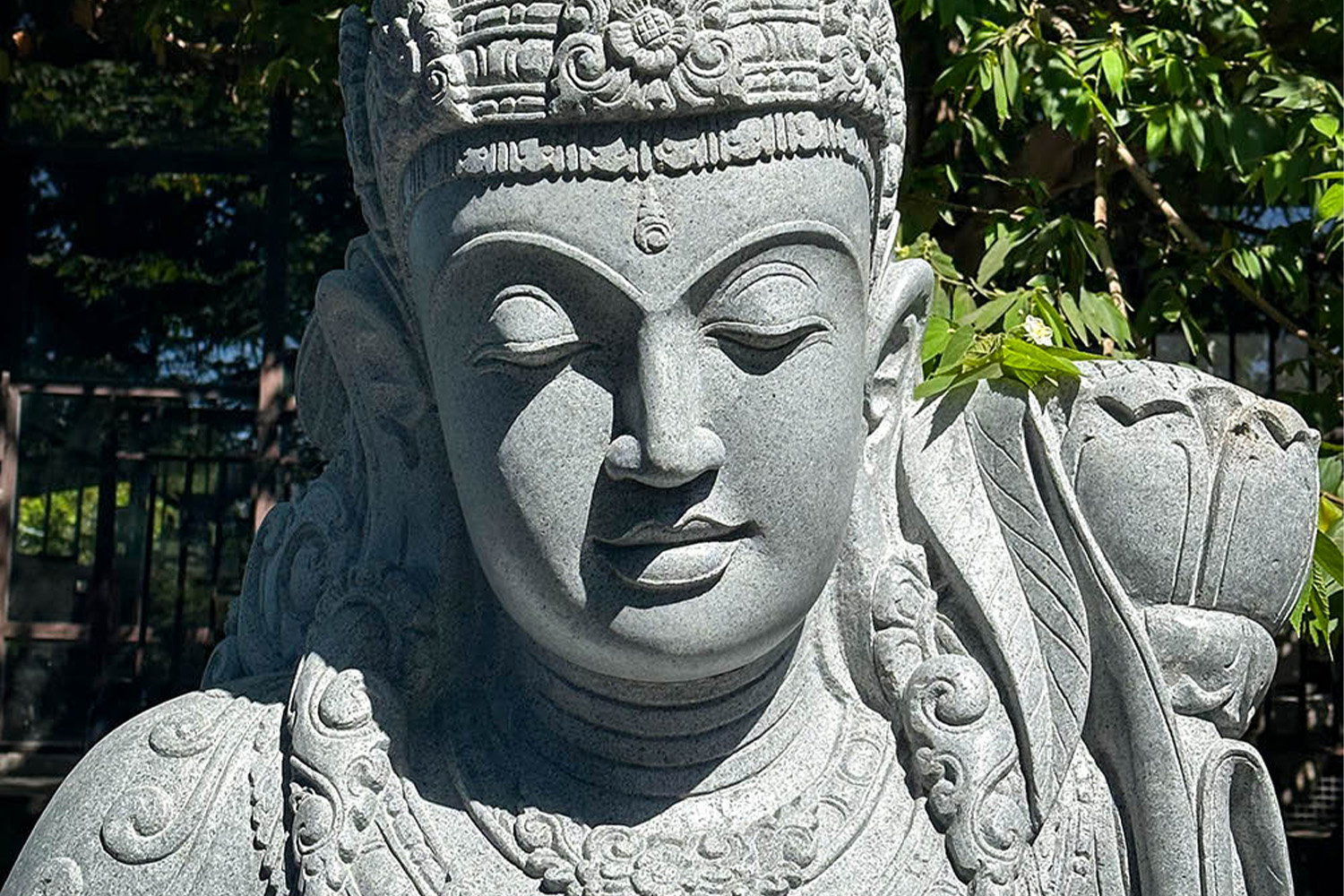 Click on the video above to watch our Indonesian artists carve gods from solid stone.
I always say to our customers;
The sculpture chooses you, you do not choose the sculpture.
You just know when you find the right piece to bring into your home and into your heart.
- Kyle Tortora,

Founder of Lotus Sculpture
Devi Tara is a Buddhist deity who is known as the "savior Buddha". She is often depicted holding a lotus flower, and she is associated with compassion and healing. In Buddhism, it is believed that buddhas can take on different forms in order to help sentient beings. As such, Devi Tara is often seen as a buddha of compassion who is able to help those who are suffering. In addition to her association with healing, Devi Tara is also known for her protectiveness. She is seen as a guardian of Buddhists, and she is sometimes invoked in order to ward off evil spirits. For Buddhists, Devi Tara is an important figure who represents the possibility of liberation from suffering.
Lava stone statues from Bali do not need much maintenance. The best way to maintain the statue is to simply dust the piece periodically to keep any dirt from accumulating. They can be used for both indoor and outdoor use.
You can use soap, warm water and a cotton cloth to periodically go over the statue to remove any dust or dirt buildup.
Soap and warm water is the best way to maintain the statue. You can use a small brush to get into the small crevices of the statue like the hands and hair.

Lava stone's durability makes it perfect for cold winters and hot summers of any climate. The stone can stand up to the harshest conditions of heat and bitter cold. We suggest you bathe the sculpture at least once a year so that dirt does not collect on the sculpture. This will maintain the sculpture for your grandchildren and then their grandchildren!

If you have any questions concerning your lava stone statue please email us at [email protected] or call us at 1(760) 994-4455.
USA Shipping
This sculpture is in our Oceanside, California gallery and ready for immediate packing & shipping. Packing takes anywhere from 1-4 business days. Shipping takes anywhere from 1-6 business days. The shipping price is automatically calculated from Oceanside, California to the destination in the online checkout. Or you can get a shipping quote by clicking the Calculate Shipping link beneath the Add to Cart button. Shipping will be calculated based on the weight of the sculpture and the distance to the destination from our Oceanside, California showroom.
The delivery charges include insurance, a residential lift gate delivery to your home or business. The freight company will call you to schedule a delivery day and time frame to make the delivery. Someone must be present to receive the statue. Depending on where you are located we will use either R&L Carriers, UPS Freight, Estes, DHX or Roadrunner Transport.
The freight company will use a lift gate to bring the sculpture to the ground and then use a pallet jack to move it anywhere on the same level. They will move it anywhere in your driveway or in your garage. They will not take it to your backyard or in the elevator to your apartment or up or down any steps. They will not be unpacking the statue and taking the crate away. Think of them as you would UPS or Fedex. They only deliver the statue. If you require a little extra service, (within reason) a tip to a delivery man usually works wonders!
For placing the statue our customers have either placed the statue themselves with help of a friend and a tool like a hand truck or a dolly. Or by contacting their landscaper who is used to moving large and heavy objects like rocks and trees into place. For much larger and heavier sculptures sometimes the customer needs a piece of heavy equipment for placing the statue like a crane or forklift. If you have any questions contact me directly at [email protected] or (760) 994-4455
Watch the video below to see how we package our statues for freight shipping
Click here to view pictures of our freight packing
International Shipping
This sculpture is in our Oceanside, California showroom and ready for immediate packing & shipping. This piece is too heavy to ship via UPS and will be shipped using an international freight service. Packing takes anywhere from 1-4 days depending on the statue. We can ship the statue using either sea or air freight to either the your home or the closest port.
If you place your order online shipping will show in the order as $0. Shipping will be calculated based on the weight of the sculpture and the distance from Oceanside, California to determine the shipping price. The shipping quote will be emailed to you and no charge will be made without your approval.
You can obtain a shipping quote for any statue by clicking the link, Calculate Shipping beneath to the Add To Cart button on every statues' page. Or you can email [email protected] or call us 760-994-4455 to receive a shipping quote. Please include the item number of the statue you are interested in purchasing as well as your country and postal code.​
Here you can view how our freight statues are professionally crated.