Pictures of Our Artisans
I have had a deep love for Asia and its people since my first trip to meditate in a Northern Thailand monastery when I was 18 years old. When I started Lotus Sculpture in 2000 that connection with Asia has blossomed into pure love! I have known many of our artisans since my very first buying trip in 2000 when the new adventure of Lotus Sculpture just started. Together, the relationships I have with my artisans has grown through the years and they are now like my second family. I take great pride in knowing personally almost all the artisans who make the statues sold in Lotus Sculpture. I invite you to join me on my journey through the remote villages where each statue is made and to meet the artisans who create the sculptures that enrich your homes, temples and lives with grace.
---
Indian Bronze Artists
Lotus Sculpture started exclusively selling South Indian, lost wax method bronzes. My oldest and dearest artisans are Varadaraj and his two brothers, Suri and Muthu who are responsible for creating the majority of bronze sold at Lotus Sculpture. I was always drawn to the difficult and time consuming process of lost wax casting where bronze statues, known as murtis, can take months and sometimes over a year to create. With India's push to modernize and higher paying jobs being offered in other fields, young apprentices are not taking up the torch to be the next generation of bronze artisans. Lotus Sculpture has provided a beacon of light to the bronze industry. I have directly seen the impact Lotus Sculpture has had on the bronze industry in the small town of Swamimalai where temple bronzes have been made since Chola times by infusing a new demand into the small industry not seen before. For this I thank you, the customers of Lotus Sculpture, and with each trip to India I hear my artisans and their families also thanking you!
---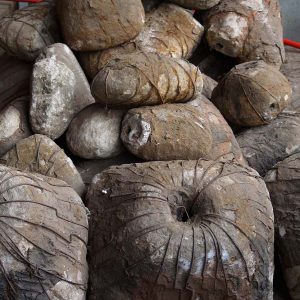 Molds waiting to be cast. It costs a lot in fuel to do a casting so they try to make it worth while by having a full load of statues for each casting.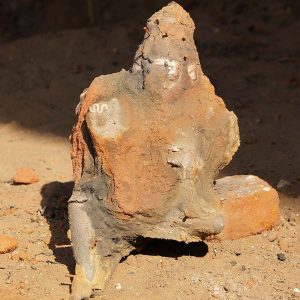 Brahma waiting to be born from the mold.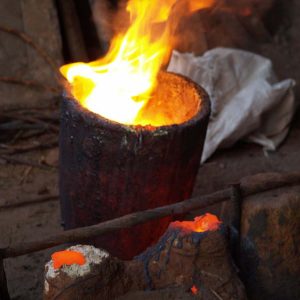 You can see the orange, molten metal sprewing from both sides of the mold.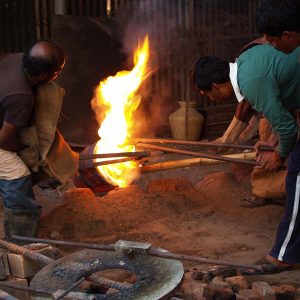 HOT!!!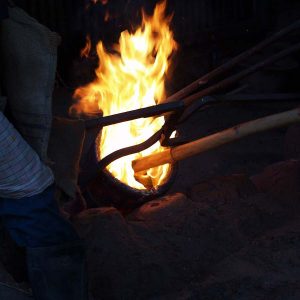 At the end of the bamboo pole is a piece of burlap. They use this as a sieve to prevent impurities from entering the mold.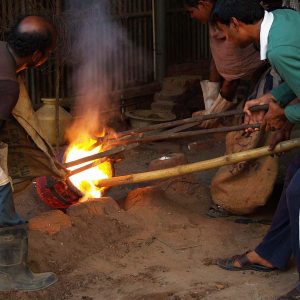 The heat is so extreme emenating from the liquid bronze!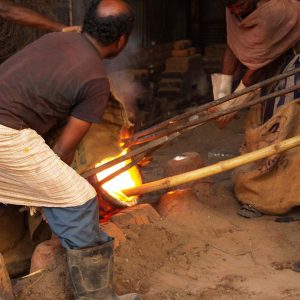 Pouring the liquid bronze from crucibles into the mold. Amazing that some of them do this in sandals!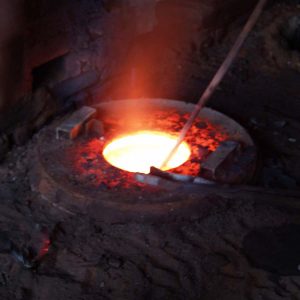 The raw metal being melted down in crucibles. It takes a good two hours of heating to get the metal to the correct temperature for pouring into the mold.
A wax mold inside a mold. They wrap steel wires around the mold to help hold everything in place during the firing process.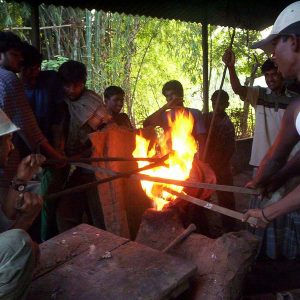 Pouring the liquid bronze from crucibles into the mold.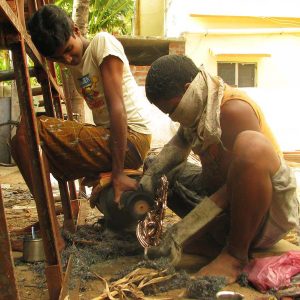 Putting a high polish on a Nataraja statue.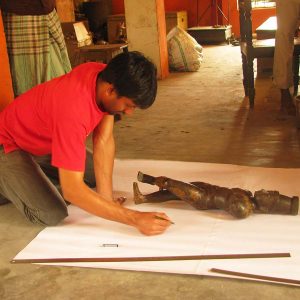 Varadaraj designing the rest of the Gopal Krishna statue. They do a drawing so they are sure to get the proportions correct.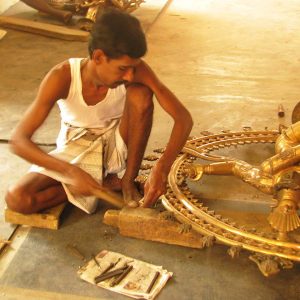 Carving the details of a 4 foot tall Nataraja.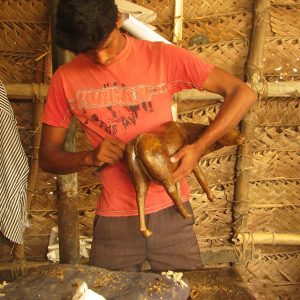 The wax mold of a cow for one of our gopal Krishna statues with cow.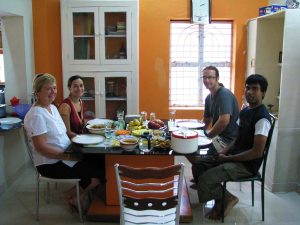 I took my mom to India to meet all my artisans. This is us at the house of Varadaraj. His mother makes my favoirte Indian meal every buying trip!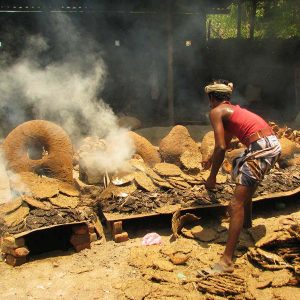 They use cow dung patties to burn to help melt the wax from the molds.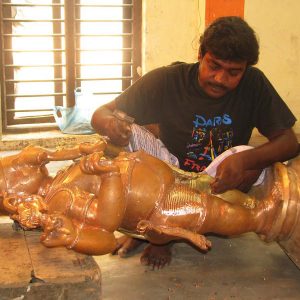 Working on half Hanuman, half Ganesh statue amde using two metals.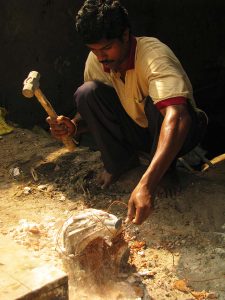 After casting and the metal statue has cooled down they have to break apart the mold to expose the raw metal statue inside.
Varadaraj and Varun with Vishnu. Masterpiece!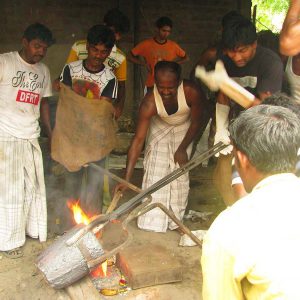 Pouring the liquid bronze from crucibles into the mold.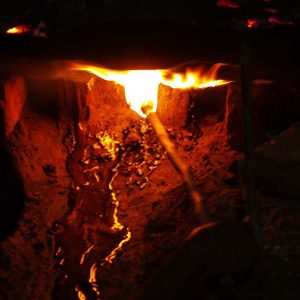 A river of wax melting out of the mold.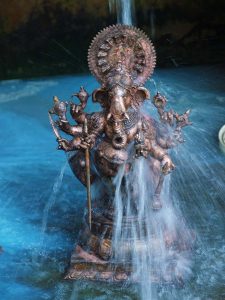 Ganesh taking a bath before he is colored.
Suri's daughter, Dharsini, with Vishnu.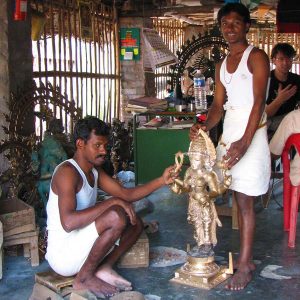 Two bronze artists holding a standing Shakti Mariamman that still has some carving work to do.
A local artisan who made this stunning Saraswati on swan.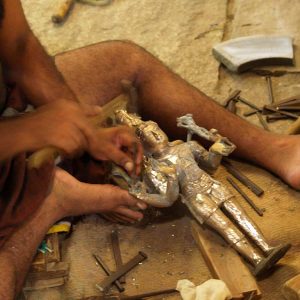 Carving the details into a small Shiva statue. The artists use their feet to hold the statue in position while they strike it with the chisel.
Carving the details of Shakti Mariamman.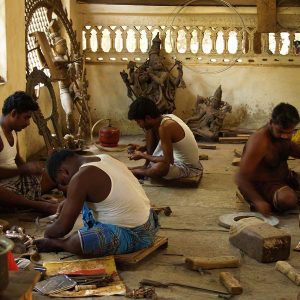 Muthu's small collective of bronze artisans. Two of the artists are his sons. Bronze casting is a tradition that passes from generation to generation.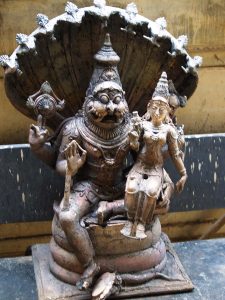 Narasimha Lakshmi that has just been cast. The final details still need to be carved.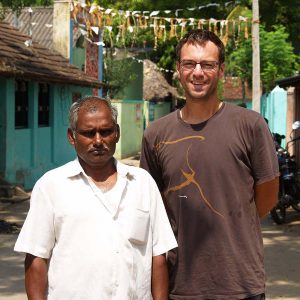 Me and Muthu. I have been trying to get a smile out of him for years. But smiles in pictures is just not in his DNA. He is a lovely guy though! Very happy! I can't understand a word he says but his family and I have been doing business for years.
---