Pictures of Our Artisans
I have had a deep love for Asia and its people since my first trip to meditate in a Northern Thailand monastery when I was 18 years old. When I started Lotus Sculpture in 2000 that connection with Asia has blossomed into pure love! I have known many of our artisans since my very first buying trip in 2000 when the new adventure of Lotus Sculpture just started. Together, the relationships I have with my artisans has grown through the years and they are now like my second family. I take great pride in knowing personally almost all the artisans who make the statues sold in Lotus Sculpture. I invite you to join me on my journey through the remote villages where each statue is made and to meet the artisans who create the sculptures that enrich your homes, temples and lives with grace.
---
Bali Wood Artists
In the hills surrounding the village of Ubud nestled in the heart of Bali I spend days on a scooter going from house to house in search of the best wood carvers that Bali has to offer. Historically, Bali has been known for its wood working heritage. With each trip I manage to find another wood artisan who breathes divinity into wood.
---
A video compilation of wood carvers from my last trip to Indonesia in 2020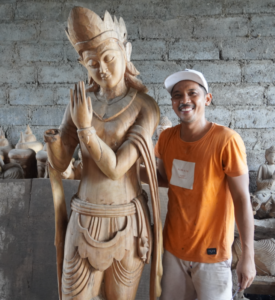 Mr Komang with a large Krishna statue he carved for Lotus Sculpture.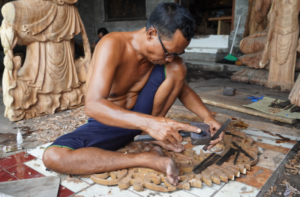 A wood artist carving a wooden wall panel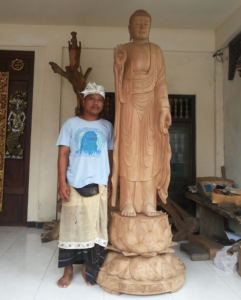 Putu posing with his father's standing Buddha statue on lotus base in traditional dress before going to temple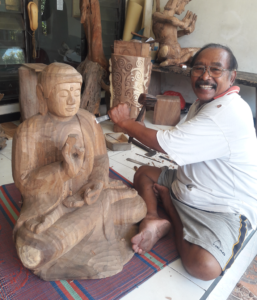 The artist, Wayan as he carves the basic outline of a Buddha statue for Lotus Sculpture. Wayan alone carves the whole sculpture. Most artists today work in sets of 4 each with a different carving task, rough cut, details of the boy, the face & sanding.
Master carver, Wayan, uses a knife to hand smooth each Buddha statue, bringing out the natural details of the wood.
Watch the master artisan, Wayan hand carve a Buddha sculpture
Carving our new wooden wall panels.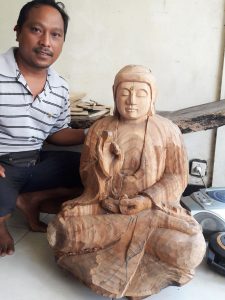 The son of Wayan, Putu, with the initial rough cut of a Buddha statue he is working on. This is the first step where all the proportions are carved. Like his father, Putu, carves with almost the same style and it is hard to tell their work apart.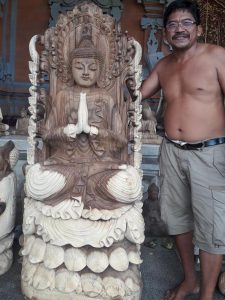 Mr. Dana specializes in larger Buddha statues. His style has a beautiful arch surrounding the Buddha!
Will, hard at work on a 6 foot tall Fat and Happy Buddha statue!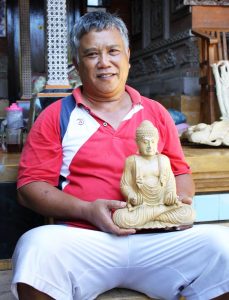 The artist, Nyoman, with one of his signature Buddha statues. He has his own style which I liken to water cascading over a rock, just pure fluidity and flow.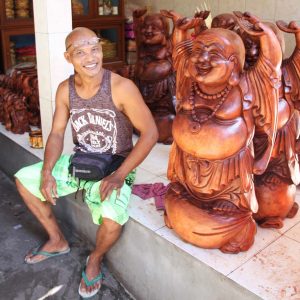 I have heard from artists in Bali that they model the faces of their statues after their own faces. No where is this more apparent than in the similarities between the artist, Will and his Fat and Happy Buddha faces. They both glow with happiness!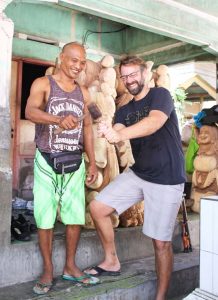 Will has been the carver of all our Fat and Happy Buddha statues we sell at Lotus Sculpture. As you can see, both Will and I, are both very serious people!
The artist Mangku prefers to work in the wood of green hibiscus trees and carves his sculptures in the natural contours of the tree following lines that the tree has to offer.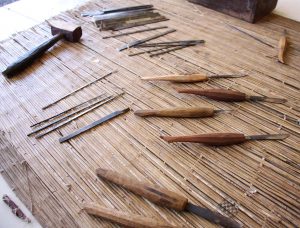 The tools of the trade used for wood carving.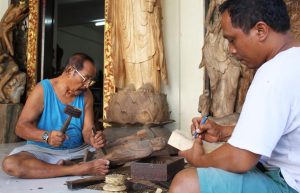 On my first trip to Bali I met Wayan and his son and have been working with them ever since! They are truly Balinese and can never be rushed so they take their time with their creations.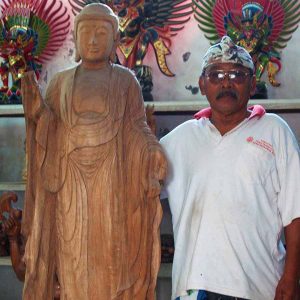 Wayan is the carver of my favorite Buddha statue to come out of Bali. Each year him and his son carve one 7 foot Buddha on Lotus base for me and each year its a masterpiece! Here he is after going to temple in front of unfinished Buddha.
Ladies selling their families wood carvings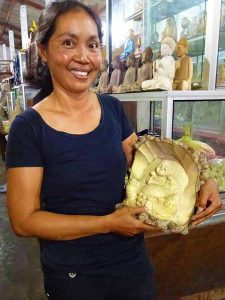 On the weekend market she sells the Fat and Happy Buddha statues carved from Crocodile wood that her family makes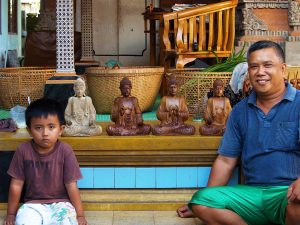 This master carver has a small shop with his house in the back. Every year I struggle to find him but he is always in the back working on a carving. I love this picture of him and his son.
---