Pictures of Our Artisans
I have had a deep love for Asia and its people since my first trip to meditate in a Northern Thailand monastery when I was 18 years old. When I started Lotus Sculpture in 2000 that connection with Asia has blossomed into pure love! I have known many of our artisans since my very first buying trip in 2000 when the new adventure of Lotus Sculpture just started. Together, the relationships I have with my artisans has grown through the years and they are now like my second family. I take great pride in knowing personally almost all the artisans who make the statues sold in Lotus Sculpture. I invite you to join me on my journey through the remote villages where each statue is made and to meet the artisans who create the sculptures that enrich your homes, temples and lives with grace.
---
Vietnamese Wood
View our Vietnamese wood artist and watch as they hand carve each Buddhist sculpture from wood.
---
Finishing of Wooden Buddhist sculptures in Vietnam
The process of carving wooden Buddhist statues in Vietnam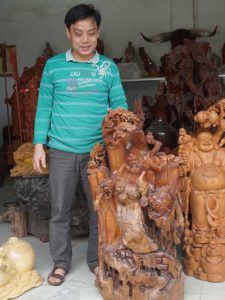 This Bodhidharma sculpture was the first statue I saw on my trip to Vietnam. I immediately fell in love!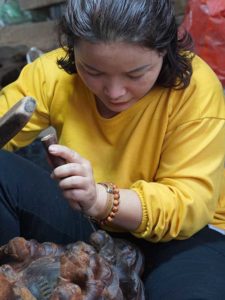 A wood block is used to hammer the carving tool into the statue. The depth of the cut is determined by the power of the strike of the block.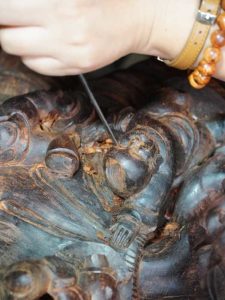 A small tool is used to get the minute details of the face of a small Bodhisattva.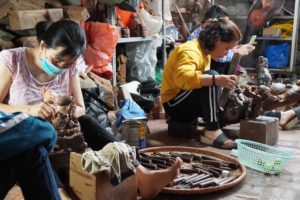 Artists work together in small groups to share on tasks with one person responsible for each part of the sculpture. It is also good for socializing!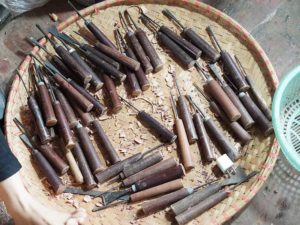 The tools are are kept in a woven basket with an array of different shaped and sized tools. Each tool has a different use. The artists continually switch between tools.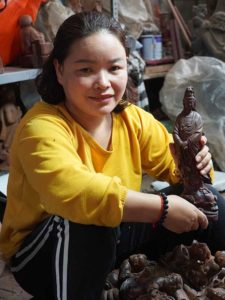 I loved this Kwan Yin statue so much that I bought Her for a wedding present of one of my good friends.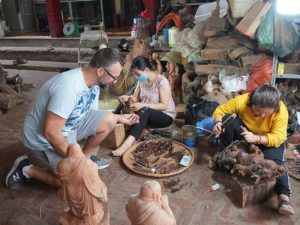 Inspecting the different sized and shaped tools the artists use for carving.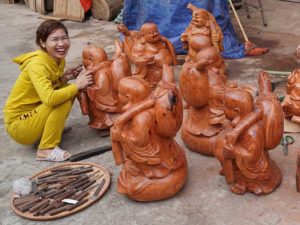 This young lady was delightful to be around. She was continually smiling and talking to both me and the artists around her as she went about her business.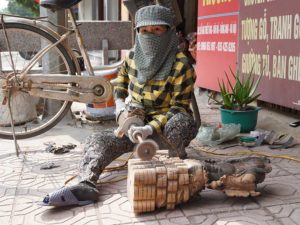 After the statue is filled down using sand paper a machine buffer is used to give the sculpture a shine.
So much time is spent finishing the statue. Days are spent with sand paper gong over the wood for smooth feel.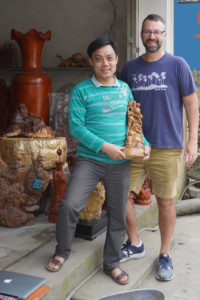 The artist, Hung and I with one of his carvings.
---