Pictures of Our Artisans
I have had a deep love for Asia and its people since my first trip to meditate in a Northern Thailand monastery when I was 18 years old. When I started Lotus Sculpture in 2000 that connection with Asia has blossomed into pure love! I have known many of our artisans since my very first buying trip in 2000 when the new adventure of Lotus Sculpture just started. Together, the relationships I have with my artisans has grown through the years and they are now like my second family. I take great pride in knowing personally almost all the artisans who make the statues sold in Lotus Sculpture. I invite you to join me on my journey through the remote villages where each statue is made and to meet the artisans who create the sculptures that enrich your homes, temples and lives with grace.
---
Indian Stone Artists
Before I started Lotus Sculpture on a trip through South India I met Baskaran and was immediately drawn to his incredible granite sculptures. I knew I would be working with him as his creations are lifelike and simply incredible! On this first trip I also met an apprentice of his named Murugan. Both Murugan and Baskaran are masters in their fields who I have been close with since the beginning!
---
Baskaran in front of a large Buddha bust! His work is just magnificent!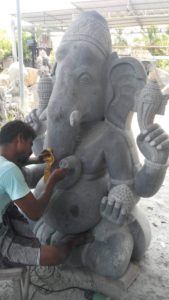 To make the skin smooth and the tone darker the artist uses a pumice stone to hand file the entire sculpture. This laborious process adds days to the total time it takes to complete the statue.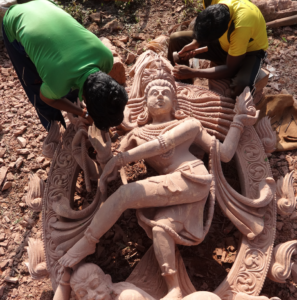 A sandstone Nataraja being worked on by two artists in Bhubaneshwar , Orissa. Statues from Orissa have their own unique style, much more ornate than south or north Indian styles.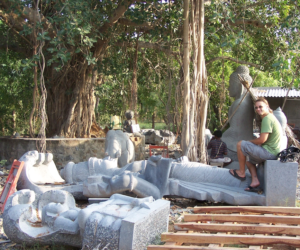 Here I am contemplating this colossal Vishnu beneath a Banyan Tree in my friend, Balan's workshop.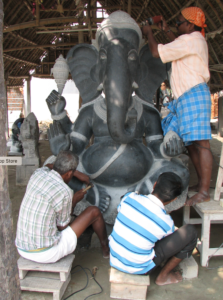 Sometimes it takes a village! For larger statues often up to 4 people are working on one statue at once to speed up the carving process.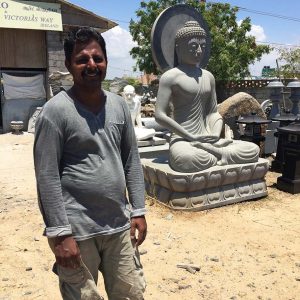 My friend Murugan with a large stone Buddha he carved behind him. He is an incredibly talents artist who has made many of our larger stone statues over the years.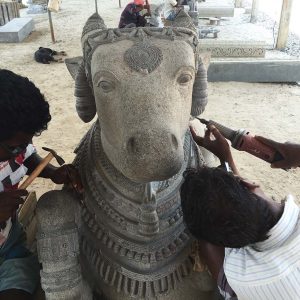 Two granite artists are working on a masterpiece Nandi statue to be placed in a Shiva temple. This sculpture was amazing with all the details!
My friend, Balan showing me his new designs of abstract Ganesha statues with his two daughters, Akash and Aditya.
View our Indian granite artists as they carve a masterpiece Nandi statue for a Hindu temple. The details are exquisite!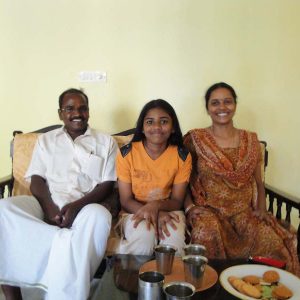 Baskaran and his family.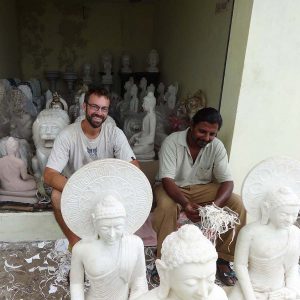 Me with my buddy Murugan. He's an amazing granite artist who won the best sculpture of the year for state of Tamil Nadu in 2010.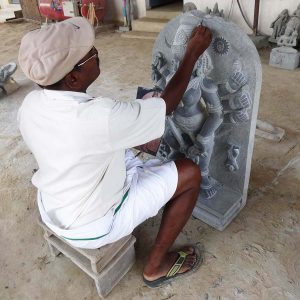 Completeing the details on Bhairava.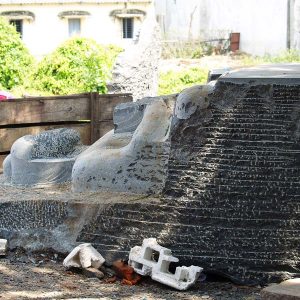 The beginings of Lord Buddha!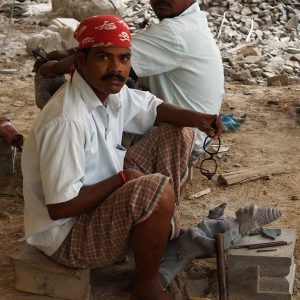 The details for small, granite statues are so difficult!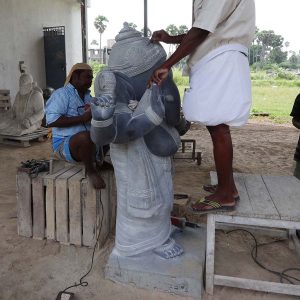 Drawing in the details for Ganesha.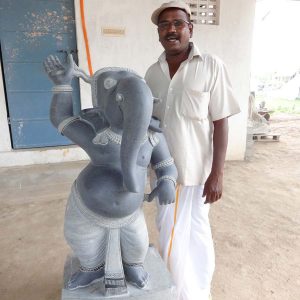 Master artist, Baskaran with a 4 foot dancing Ganesh.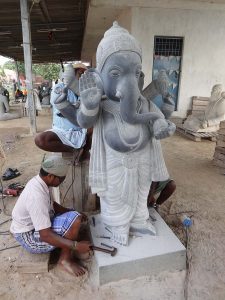 The finishing touches being applied to a standing Ganesha.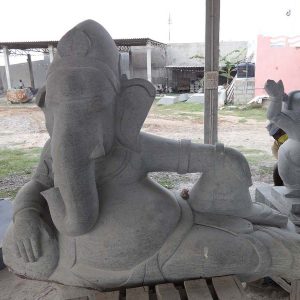 Ganesh waiting for his details to be carved!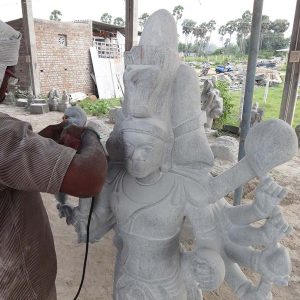 Panchamuhthi Hanuman!
A rough cut artist is responsible for carving the general proportions of the sculpture. He then hands the statue off to a more skilled carver who is reponsible for the details.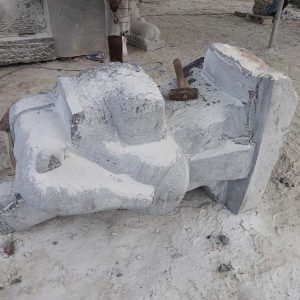 The rough cut statue of dancing Ganesh. It is hard to imagine that a wonderful dancing Ganesh will be born from this block of stone.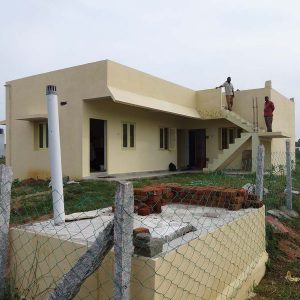 My stone artists and friend, Murugan and his new house! I am happy to say that the money from Lotus Sculpture directly paid for this new house!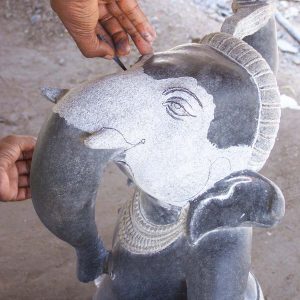 The eyes give Ganesha life!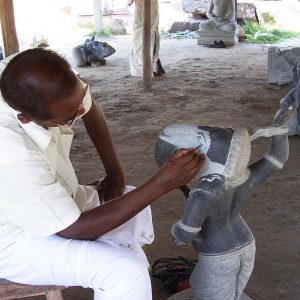 Baskaran drawing in the details of Ganesha's eyes which serve as a guide that a regular carver can complete the carving from.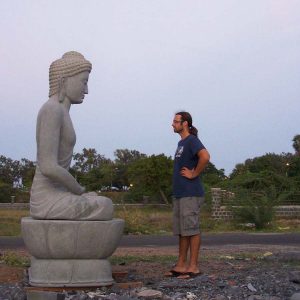 Me assessing the Buddha. I just loved this sculpture!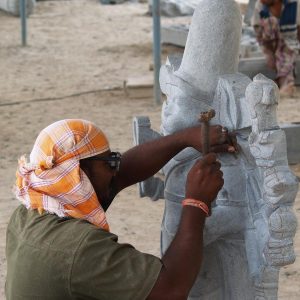 Carving Hanuman!
---