By you this universe is borne,
By you this world is created,
O Devi, by you it is protected.
---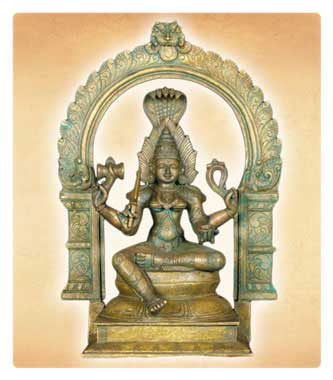 The Shakta tradition glorifies Devi, the consort of Shiva, as the World Mother who, as Shakti, is the energy giving power behind all creation. Shakti is shown in many forms. As Uma or Parvati, she is the gentle consort of Shiva. As Kamakshi or Rajarajeshwari she is the Great Mother. In the form of Durga she rides a tiger, the ego and arrogance that man must subdue. In her angry form she is Kali.
The earliest term applied to the divine feminine, which still retains its popular usage, is Shakti.
The word Shakti is used in a variety of ways ranging from its use as a way to illustrate the ultimate primordial creative power, to expressing the capacity or power of words to convey meaning. The word 'Shakti' is derived from the root 'shak,' meaning potency or the potential to produce, an assertion of Her inherent creative aptitude.
All interpretations of the word 'Shakti' hold common one parameter, Power. Specifically, Shakti means Power, Force and Feminine Energy. She represents the fundamental creative instinct underlying the cosmos, and is the energizing force of all divinity, of every being and every thing. Devotees believe the whole universe to be a manifestation of Shakti, who is also known by her general name Devi, from the Sanskrit root 'div' which means to shine.