The practice of yoga in the United States has been on a constant rise over the last 30 years since its introduction in the 1980s as a wonderful form of physical health and well being regardless of its original religious context.   As of January 2012 it was estimated that over 20 million Americans regularly practiced yoga as both a form of exercise and spiritual release, up from around 4 million in 2001.
It is no question that given the swelling numbers many have found value in the practice to both their physical and mental health.  Today yoga is even used as cancer treatment to decrease symptoms of depression, insomnia, pain, and fatigue in patients.  Hatha yoga specifically has become very popular in the west for its incorporation of physical exercise, breathing control, and meditation.  If you are looking for a way to reduce stress, symptoms of tiredness, increase general mood, and to get your body in shape, yoga is a great practice for all age groups and gender.
Slowing down and taking the time to become in touch with ones body can be a highly fulfilling practice as we all struggle with the stresses of daily living in our modern fast paced society.   As the Buddha said,
"Meditate. Live Purely.  Be quiet.  Do your work with mastery.  Like the moon, come out from behind the clouds!  Shine."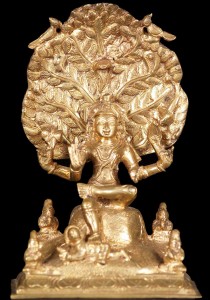 Almost all of us have a special place we hold dear and go to clear our heads and think…a favorite park bench, out for a run, sitting with our toes in the sand.  But what many don't realize is that it isn't the destination that is key, but actually the state of mind that place brings to you.  Instead of escaping somewhere external, try yoga and meditation.  Anyone can develop inner peace, without really going anywhere but in.
To help with your practice, add a Dakshinamurthy statue by Lotus Sculpture to your meditation corner.  Shiva in the form of universal teacher, Dakshinamurthy, can help guide you in your path to inner awakening.