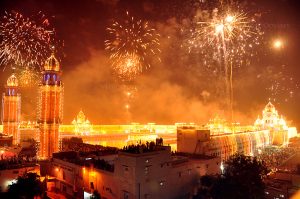 Lakshmi is no doubt worshiped throughout the year as the important Hindu Goddess of Wealth, but she is most astutely worship during the Hindu festival of Diwali, festival of lights.  Diwali is a very important 5-day holiday on the Hindu calendar in which families celebrate traditional activities together in their homes.  Participants in Diwali light small clay oil lamps which represents the conquering of good over evil.  The lamps are left lit throughout the night as followers cleanse their homes in order to welcome Goddess Lakshmi.  Throughout history people have put oil lamps outside their homes on Diwali in hopes that Lakshmi would come visit their homes and bless them.  Lakshmi Puja is the most important day of the Diwali festival of lights in northern India.  Fireworks are set off in order to send away evil spirits.  Sweets and snacks are shared among family and friends and an overall grand celebration ensues.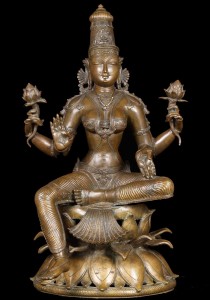 It is no question that the Diwali festival is a celebration of great joy for Hindus, honoring Lakshmi's abundance in their lives.  Lakshmi is an endless symbol of wealth in all its forms.  Wealth comes in many ways, not just the monetary wealth we think of.  She is a symbol of wealth of knowledge, wealth of courage, wealth of victory, and every other way in which wealth manifests.  Thus she is celebrated for her endless abundance.  Lakshmi is a symbol of luck to most Hindus and is celebrated daily in most homes.  She is a symbol of femininity for Hindu women with her gorgeous golden complexion sitting upon a blooming lotus bud.   The budding lotus represents fertility and purity.  She is believed to lead devotees into both material and spiritual prosperity.
As October is coming to a close, many Hindus are prepping for Diwali to start on the 13th of November, celebrated through the 17th of November.  Prep your oil lamps and prepare to celebrate with Hindus across the globe and celebrate the diving beauty Lakshmi, Hindu Goddess of Wealth.