"Beautiful goddess seated on a chariot, delighted by songs on lustful elephants, bedecked with lotuses, pearls and gems, lustrous as fire, radiant as gold, resplendent as the sun, calm as the moon, mistress of cows and horses – take away poverty and misfortune, bring joy, riches, harvest and children."


According to Hindu beliefs the Hindu Goddess Lakshmi is the Goddess of wealth, fortune, luxury, power, prosperity, generosity and embodiment of beauty.  She is also the consort of Lord Vishnu and is believed to give strength to the Lord himself. Goddess Lakshmi is believed to relieve all her devotees from all sorrows related to money. Padma, Padma Priya, Padmamaladhara devi, Kamala, Padmamukhi, Padmakshi, Jalaja, Madhavi, Padmahasta, Padmasundari, Kalyani, Vishnupriya, Ulkavahini and Vaishnavi are some of the names in which She is worshiped. She is also known as Jaganmaatha ("Mother of the Universe").
You can find an innumerable number of slokas in praise of Goddess Lakshmi. Here, are some of them:
---
1.Beetja Mantra
"Shreem"
It is believed that the continuous chanting of this mantra will bring gain and prosperity in life.
2. The mantra that includes 9 names of Mahalakshmi:
"Om Mahalakshmi Namahae
Om Gaja Lakshmi Namahae
Om Jaya Lakshmi Namahae
Om Thana Lakshmi Namahae
Om Santana Lakshmi Namahae
Om Seetha Lakshmi Namahae
Om Thaireya Lakshmi Namahae
Om Thannya Lakshmi Namahae
Om Vidya Lakshmi Namahae
Om Maha Vishu Mahalakshmi Namahae"
Chanting this mantra will bring youth, beauty, happiness and riches to you, which will make a great difference in life.
3. Shri Dakshina Lakshmi Stotram
"Trilokya Poojithe Dhevee Kamala Vishnu vallabhe
Yaya Thawam Achalaa Krishne Thathaa-bhava Mayee Sthiraa
Kamala Chanchala Lakshmi Chalaa Bhoothir Hari Priya
Padma Padmalayaa Samyak Uchai Shri Padma-dharini
Dwada-saithani Naamani Lakshmi Sampoojya Ya Padeth
Sthiraa Lakshmir Bhaved Thasya Puthra-dhara Abhi-saha
Ithi Shri Dakshina Lakshmi Stotram Sampoornam"
Meaning: Oh Goddess you are the one who is worshiped in all the three worlds,
Oh Kamala, Oh Consort of Lord Vishnu,
Oh Consort of Krishna, If only you are stable,
And abide by me forever.
Oh Kamala, Oh unstable one, Oh Lakshmi,
Oh Goddess who moves everything, Oh Goddess of prosperity,
Oh Darling of Hari, Oh Padma, Oh goddess who lives in lotus,
Oh Goddess who is pleasant, Oh Goddess who is exalted,
Oh Goddess of wealth, Oh Goddess who holds a lotus.
If these twelve names of Lakshmi are read and worshipped,
Lakshmi would be stable and he (who chants) would be with wife and son.
Thus ends the Dakshina Lakshmi Stotram.
---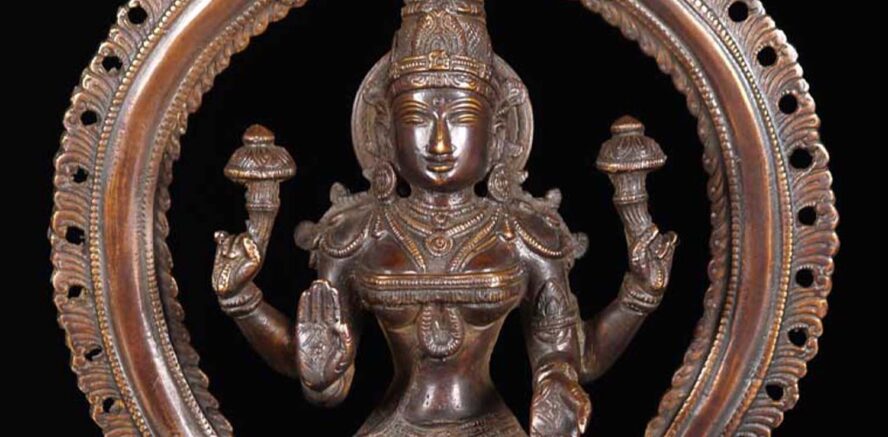 The following mantras are believed to bring good fortune, prosperity, and harmony to the life of the devotees who recite them.
A. Mahalakshmi mantra
"Aum
Shring Hring Kleeng Mahalakshmi Namah
Aum"
B. Maha Lakshmi Mantra
"Om Sri Maha Lakshmyai Namah"
C. Goddess Laxmi Mantra Siddhi Japa
"Om Shreem Heem Shreem Kamle Kamalalaye
Praseed Praseed,
Shreem Heem Shreem Om Mahalaxmi
Namaha"
D. Goddess Mahalakshmi Gayatri:
"Om MahaDevyaicha Vidhmahe
Vishnu Patnyaicha Dheemahi
Thanno Lakshmi Prachotayaath"
E: Lakshmi Mantra to bring fortune and prosperity to enterprises
"Om Shring Hring Kling
Tribhuvan Mahalakshmyai Asmaakam
Daaridray Naashay Prachur Dhan
Dehi Dehi Kling Hring Shring Om
Om Shring Hring Kling
Aing Saung Om Hring
Ka A Ee La Hring Ha Sa Ka Ha La
Hring Sakal Hring Saung Aing Kling Hring Shring Om
Om Hring Shring Kreeng
Shring Kreeng Kling Shring Mahaalakshmi
Mam Grihe Dhanam Pooray Pooray
Chintaayai Dooray Dooray Swaha
Om Sarvabaadhaa Vinirmukto,
Dhan Dhaanyah Sutaanvitah
Manushyo Matprasaaden Bhavishyati
Na Sanshayah Om"
F. Shri Lakshmi Astothra : Sadha Naamavali
"Aum Prakruthyai Namah
Aum Vikruthyai Namah
Aum Vidyaayai Namah
Aum Sarvabhoothahithapradayai Namah
Aum Shraddhayai Namah
Aum Vibhuthyai Namah
Aum Surabhyai Namah
Aum Paramatmikaayai Namah
Aum Vache Namah
Aum Padmalayaayai Namah
Aum Padmaayai Namah
Aum Shuchaye Namah
Aum Swahaayai Namah
Aum Swadhaayai Namah
Aum Sudhaayai Namah
Aum Dhanyaayai Namah
Aum Hiranmaiyai Namah
Aum Lakshmaiyai Namah
Aum Nityapushtayai Namah
Aum Vibhavaryai Namah
Aum Adhithyai Namah"
"Aum Dheethyai Namah
Aum Deepthaayai Namah
Aum Vasudhaayai Namah
Aum Vasudhaarinyai Namah
Aum Kamalaayai Namah
Aum Kaanthayai Namah
Aum Kaamakshyai Namah
Aum Kamala sambhavaayai Namah
Aum Anugrahapradhaayai Namah
Aum Buddhaiyai Namah
Aum Anaghaayai Namah
Aum Harivallabhaayai Namah
Aum Ashokaayai Namah
Aum Amruthaayai Namah
Aum Deepaayai Namah
Aum Lokashoka vinashinyai Namah
Aum Dharmanilayaayai Namah
Aum Karunaayai Namah
Aum Lokamatre Namah
Aum Padmapriyaayai Namah
Aum Padmahasthaayai Namah
Aum Padmakshyai Namah
Aum Padmasundariyai Namah
Aum Padmodbhavaayai Namah
Aum Padmamukhyai Namah
Aum Padmanabha priyaayai Namah"
"Aum Ramaayai Namah
Aum Padmamalaadharaayai Namah
Aum Deviyai Namah
Aum Padminiyai Namah
Aum Padmagandhinyai Namah
Aum Punyagandhaayai Namah
Aum Suprasannaayai Namah
Aum Prasadabhi mukhyai Namah
Aum Prabhaayai Namah
Aum Chandravadhanaayai Namah
Aum Chandraayai Namah
Aum Chandrasahodharyai Namah
Aum Chaturbhujaayai Namah
Aum Chandrarupaayai Namah
Aum Indiraayai Namah
Aum Indhu sheethalaayai Namah
Aum Ahlaadha jananvaya Namah
Aum Pushtyai Namah
Aum Shivaayai Namah
Aum Shivakariyai Namah
Aum Satyaayai Namah
Aum Vimalaayai Namah
Aum Vishwajananyai Namah
Aum Dhustyai Namah
Aum Dharidriya naashinyai Namah
Aum Preethi Pushkarinyai Namah"
"Aum Shanathayai Namah
Aum Shuklamaalyaambharaayai Namah
Aum Bhaskaryai Namah
Aum Bilva nilayaayai Namah
Aum Vararohaayai Namah
Aum Yashaswinyai Namah
Aum Vasundharaayai Namah
Aum Udhaarangaayai Namah
Aum Harinyai Namah
Aum Hemamalinyai Namah
Aum Dhana dhanyakaryai Namah
Aum Siddhayai Namah
Aum Sthraina Soumyaayai Namah
Aum Shubhapradaayai Namah
Aum Nrubavema gathanandhayai Namah
Aum Varalakshmaiyai Namah
Aum Vasupradhaayai Namah
Aum Shubhaayai Namah
Aum Hiranya praakaaraayai Namah
Aum Samudhra dhanaayayai Namah
Aum Jayaayai Namah
Aum Mangalaayai Namah
Aum Vishnuvakshah Sthalasdhithaayai Namah
Aum Vishnupathnyai Namah
Aum Prasannaakshyai Namah
Aum Narayana Samashrithayai Namah"
"Aum Dharidriya Dhwamsinyai Namah
Aum Devlakshmi Namah
Aum Sarva padhrava nivaarinyai Namah
Aum Navadurgaayai Namah
Aum Mahakaalyai Namah
Aum Brahma-Vishnu-Shivathmikaayai Namah
Aum Thrikaalagyanasampannaayai Namah
Aum Bhuvaneshwaryai Namah
Aum MahaaLakshmi Astothra sadha Namah"
---
View All Our Mantras to Hindu Gods
including English and Sanskrit translations