Vibhuti and Sindur, (or holy ash and kumkum) are found in just about every Hindu household around the world. Men apply what is called a tilak and women apply what is called a bindi. The use of colored powder and ash is essential to Hindus and the Indian culture as a whole. They even call the god Shiva as "Digambar"; meaning clad-in-sky or clad in ashes. It is not uncommon to see many priests and monks walking about India covered head-to-toe in ash.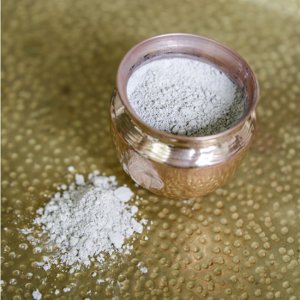 Vibhuti is a very fine white ash substance made from burning a specific kind of wood during Agamic rituals. Vibhuti plays an extremely special role for the followers of Shiva, unlike the other sects which use primarily kumkum or sandalwood paste. Devotees of Shiva will either have three horizontal lines drawn on their foreheads or they will be covered entirely in ash. The vibhuti is also used during rituals in temples for Shiva.
Sindur, or more commonly called Kumkum, is a red-vermillion shaded powder made from turmeric powder mixed with lime. The acid in the lime causes the orange turmeric powder to turn a rich red when mixed and dried. Sindur plays a much more important role in the lives of women in India as almost all of them will adorn a bindi. Having sindur along the partition of a woman's hairline indicates that she is married; women who are single simply where a single red dot and the widowed wear no bindi at all.
In temples and many people's home shrines, vibhuti and sindur are applied to the foreheads and feet of the murtis. Often devotees will touch the sindur covered feet of a murti and then use that sindur to apply a tilak or bindi. The ash & powder are also used in other rituals in which they are liberally applied to smaller statues and the devotees' foreheads'. Often, guests at one's home will have a tilak or bindi applied when they walk through the threshold as in Indian culture it is customary to literally treat their guests as though they were a statue in a temple.
If you happen to be interested in purchasing vibhuti or kumkum, Amazon has an amazing selection. Click here to view. Warning, be cautious of any cosmetic products you may purchase, always check the ingredients.