Shri Ram is the seventh incarnation of Lord Vishnu, is one of the most worshiped deity by Hindus in India. Diwali, the festival of lights, is probably the most celebrated and biggest festival, and is observed by Hindus, Buddhist, Jain's and Sikhs, commemorates Lord Ram's victory over the demon king, Ravan, and the return to his kingdom Ayodhya after completing his 14-year exile.
Purpose of the incarnation: The purpose of incarnation of Vishnu was to slay the demon Ravan, the king of Lanka. Ravan acquired a boon from Lord Brahma, which made him invincible and indestructible by Devas (The Gods) or Asuras (The demons). The sages were put into great misery and hardship by this demon and it became necessary to put an end to his reign, this lead lord Vishnu to to the earth as a man as only a human can slay the demon Ravan.
Sri Ram: According to the great epic Ramayan, Ram was born in Treta Yug (era), as the son of Dasharatha, the king of Ayodhya. Dasharatha had three wives and four sons, Ram being the eldest and his mother was Kaushalya. He was an ideal son, and idol of chivalry, prowess and virtue. Ram and his brother, Lakshman grew up to the princely stature and became masters of all weapons under the guidance of the great sage Viswamitra. In the mean time, Ram got married to Sita, daughter of Janaka, the princess of Mithila, and Lakshman marries Urmila, sister of Sita. Dasharatha was planning for the coronation of Rama as the king of Ayodhya, but he was in extreme agony, when this idea was strongly objected by Kaikeyi, one of his wives, as she wanted her son, Bharath to become the king. She also demanded that Ram must not enter the kingdom without completing 14 years of exile.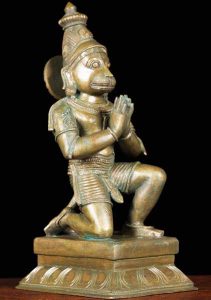 Exile: Knowing the demands of his step-mother, Ram agreed to go for the exile and ignoring his contempt Lakshman and Sita joins him. Even though, Urmila wanted to accompany her husband, Lakshman. However, Lakshman refuses the wish and assigns her to take care of his parents. Though disappointed, the broad minded Urmila accepts her husband's orders and stays back to look after the old in-laws. During the period of exile, Ram meets Lord Hanuman, the great monkey, who is a true devotee of Ram. During his exile, Lord Hanuman protected the Saints from the vindictive actions of the demons.
During the exile, Ram settled in a calm and beautiful place, Panchavadi and lived a happy life. In the mean time, Surpanakha, the sister of Ravan, meets the charming brothers and becomes so attracted to Ram and proposes to marry him. Ram denies the request, and asks her to propose his brother, who is alone without a wife. Surpanakha follows Ram's advice, but Lakshman rejects her, and this makes her angry. The outraged demon tries to harm Sita as she considers Sita to be the obstacle that prevents her from getting the love of Ram. Ram saved Sita and asks Lakshman to teach Surpanakha a lesson. Lakshman attacked her with his sword causing injuries to her nose and breast.
Disgraced and mutilated, Surpanaka, thirsty to take revenge, complains to her brother about the attack and how she was insulted by the two handsome princes. Ravan came to know about the immense love Ram had for Sita and this made the clever Ravan think of separating Sita from Ram, as Ram will not be able to bear the departure of his love. Ravan in his golden chariot reaches the ashram of Maricha and seeks his help to work out his plan. Maricha first denies the request for help from Ravan, but coming under the pressure of his king, finally he agrees to help him. Maricha gets killed by Ram, during the abduction, while Ravana succeeds in kidnapping Sita away from the ashram.
Ravan was much enchanted by the beauty of Sita, and pleaded her to marry him. However, Sita denied the powerful demon. She was taken to Lanka, where she spent her days alone in her beloved memories and wept. Ram was so desperate, and began to search for Sita everywhere. Finally he meets Jedayu, who witnessed the cruel act of Ravan. Jedayu reveals Ram that she was taken to Lanka in a flying golden chariot. With the help of Hanuman and army of monkeys, Ram constructs a floating bridge "Ram Setu" to Lanka and reaches Lanka to regain his kidnapped wife. After a ferocious war, which lasted for many days, ended with the carnage of Ravan, and Ram got his wife back, safe and sound.
Return to Ayodhya: After 14 years of exile, Ram, Sita along with Lakshman reaches Ayodhya and resumes the throne, as per the wish of Bharath, who was ruling the empire on behalf of Ram. The death of Ravan restored peace and happiness to the world. People began to worship Ram and it still continues. You can find a lot of temples around the world where Ram is the main idol of devotion.
You can easily identify statues of Lord Rama.  He is always depicted in a standing position, with a bow and arrow in his left and right hands respectively. He always carries a quiver on the back and is normally accompanied by Sita, Lakshman and Hanuman. He will be always be wearing princely adornments.
Ram and Sita started to live a happy life again, but the fate was cruel to Sita, as the people of Ayodhya began to talk ill about her. Ram who was an ideal ruler, felt unhappy to know that his people doubt about the innocence of his wife. Finally, he decides to leave Sita, even though she proves her loyalty in the fire ordeal.
Even though, Sita was so devoted and loyal to Ram, she had to live a lonely life. Urmila is often considered as a forgotten heroine since no one values her sacrifice as she sacrificed her valuable 14 years away from her husband for the sake of Ram and Sita.
After reviewing all these points, whom can we consider as the real leading lady – Sita or Urmila?