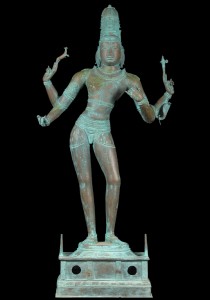 Tripurantaka is a form of Hindu God Shiva, the Destroyer.  As Destroyer of Evil, one of Shiva's most pronounced legends tells of Shiva destroying 3 mythical cities known as Tripura.
Legend has it an evil demon by the name of Taraka had 3 princely sons. As they grew each served penance to Brahma, the great Creator, in order to get in his good favor.  They gained immense power in the process.  Pleased with them, Brahma bestowed on them each their own city in the sky.  These three fortresses were virtually impenetrable and they were granted life for a thousand years as they lived their lives in their great kingdoms.  Only by an arrow merging the three cities setting them ablaze could they be destroyed.  Armed with this immense power bestowed by Brahma, the three demon sons began to wreak havoc on the universe.   From cliff sides within their great citadels they would taunt and threaten the gods, mounting attacks from the sky.
Seeing no end to their harassment within their virtually impassable cities, the great Hindu Gods went to Shiva for help.  Lord Shiva agreed to help but waited for the perfect moment to strike.  Shiva created a bow, arrow, and chariot from pieces of the gods in order to mount his attack.  As he raced into the sky, Shiva hit the converged cities with a flaming arrow as Brahma steered the divine chariot.  The arrow was created from Hindu God Vishnu, protector and preserver of the universe, destroying the three cities and freeing the gods from the princes reign of torment.  Forgiving as he was, Shiva forgave the repenting princes and gave them each duties within his abode.  Originally Shiva devotees, he recognized their following of an evil path, but forgave them of their sins.  After destroying the cities, Shiva smeared the ashes of the three cities on his forehead.  This has become a widely known symbol of Shiva and devotees smear ash on their foreheads in his honor to this day.
Click here for more info on Shiva, Vishnu, and Brahma.