Hindu God Ganesh has ascribed to many roles over time.  His most marked role is that of Vighneshvara, or Lord of Obstacles, within the Hindu Religion.  This applies to both material and spiritual aims.  Besides the primary remover of obstacles he is also thought to place obstacles in the way of those in need of guidance.   If one is expressing themselves in less then ideal ways, Ganesh may bring those to light by bringing about hindrances that may enlighten them.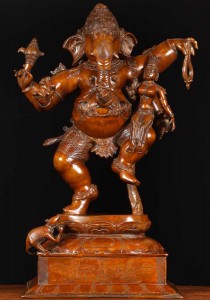 Another such role is that of Lord of letters and learning.  Ganesh is renowned for his divine intellect and wisdom.  He is thought to be a teacher of the divine with his inherent cleverness and vast intelligence.  He is worshiped often by devout Hindus whenever they are embarking on a new endeavor, such as buying a house or starting a new business opportunity.  They pray for his guidance in that their new beginning may be successful.
It would not be a stretch to say that virtually every Hindu home has some sort of statue or montage to Lord Ganesh.  He is worshiped by everyone, whether rich or poor, all over India.  They collectively believe that he is a granter of success, prosperity, and protects against hardships that may arise.  Most beseech upon him at the beginning of every prayer, important events, or religious ritual.  It is even said that musicians, dancers, and artists call upon him at the beginning of every performance, undertaking, or event.  One of the most influential invocations is the following mantra:
'Om Shri Gaṇeshāya Namah' translated as 'Om, salutation to the Illustrious Ganesha'
Most Hindu households give offerings of sweets to their beloved Ganesh which is why he is often depicted holding a basket of delicacies.  Although the birth of Ganesh is the most often celebrated holiday worshiping Ganesh, he is often revered during Diwali, the Hindu festival of lights.  This is mostly due to his everyday influence in the lives of Hindus nationwide.  Diwali is a celebration of the plentiful qualities of life, of which Ganesh is often a largely believed guidance through them all.