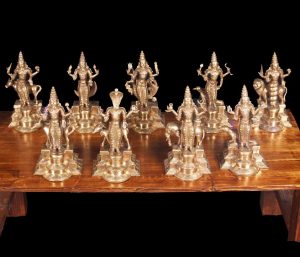 As per Hindu mythology, a person's life is decided by the horoscope, and the basics that help the astrologers to predict it is based on these 9 planets known as navagrahas. It is believed that as the planets change their position, person's life also change and some changes may cause good effects whereas some casts bad effects. However, it is believed that invoking the Navagraha mantra can bring changes to the hardships. Also, chanting the mantra, wearing gemstones or rudrakshas can bring in good fortune to peoples' life. Ved Vyas has written the navagraha mantra to please the planets (the presiding deities) and it is scientifically proven that chanting mantras will bring down the negativity in you and the surroundings.
The planets, their representations and favorable days to chant
Sun (Surya) – soul, king, highly placed persons, father. — Monday
Moon (Chandra) – Mind, queen, mother. — Tuesday
Mars (Mangal) – energy, confidence and ego. — Wednesday
Mercury (Budha) – communication. — Thursday
Jupiter (Brihaspati) – the great teacher. — Friday
Venus (Sukra) – wealth, pleasure and reproduction.
Saturn (Shani) – learning and Career. — Saturday
Rahu – an Asura who does his best to plunge any area of one's life he controls into chaos.
Ketu – supernatural influences.
Based on timings, the mantras for Rahu and Ketu can be chanted every day.
The Mantras and meanings
Surya:
Japaa Kusuma Sankasham
Kaashya Peyam Maha Dyutim
Tamo Arim Sarva Paapagh Nam
Pranatosmi Divaa Karam
Meaning: I salute Sun, who is red like a Hibiscus, the descendent of Kaashyapa, Foe of darkness and the one who dispels all sins and has splendid radiance.
Gemstone is Ruby.
Chandra:
Dadhi Shankha Tusha Raabham

Kshiiro Dhaarnava Sambhavam

Namaami Shashinam Somam

Shambor Mukuta Bhushanam
Meaning: The one who has the hue of curd and icebergs, who rose from Ksheasagar and who adorns the head of Lord Siva. I prostrate to the Moon, the ruling deity of the soma juice.
Gemstone is Pearl.
Mars:
Dharani Garbha Sambhuutam

Vidyut Kanti Samaprabham

Kumaram Shakti Hastam Cha

Mangalam Prana Maa Myaham
Meaning: I pray to Mars, born of Earth (son of Bhooma Devi), His effulgence is like that of lightning. He is called Kumara, n who holds in his hand weapon called Shakti.
Gemstone is coral.
Budha:
Priyangu Kalikaa Shyamam
Rupenaa Pratimam Budham
Sowmyam Sowmya Guno Petam
Tam Budham Prana Maa Myaham
Meaning: I pray to Mercury, who has a dark blue complexion and whose beauty is incomparable. He possesses gentle, charming qualities.
Gemstone is emerald.
Guru (Brihaspathi):
Devanaam Cha Rishii Namcha
Gurum Kanchana Sannibham
Buddhi Bhuutam Trilo Kesham
Tam Namami Bruha Spatim
Meaning: I pray to Jupiter, the preceptor of gods and rishis, intellect incarnate, lord of the three worlds.
Gemstone is Pukhraj (yellow sapphire).
Shukra:
Hima Kunda Mruna Labham
Daityanam Paramam Gurum
Sarva Shastra Pravak Taram
Bhar Gavam Prana Maa Myaham
Meaning: I pray to Venus, the son of Bhagu. He is the spiritual master of demons, promulgator of all learning, he who shines like the fiber of snow-white jasmine.
Gemstone is diamond.
Shani:
Neelaan Jana Sama Bhasam
Ravi Putram Yama Grajam
Chhaya Martanda Sambhutam
Tam Namaami Shanaish Charam
Meaning: The one who is dark blue in complexion, who is son of Surya and his wife Chaya, who is elder brother of Yama. The slow moving, I prostrate that Shaneeswara.
Gemstone is blue Sapphire.
Rahu:
Ardha Kaayam Mahaa Viiryan
Chandraa Ditya Vimar Dhanam
Sinhi Kaa Garbha Sambhutam
Tam Rahum Prana Maa Myaham
Meaning: I pray to Rahu, the son of Simhika, having half a body, of extraordinary strength, the eclipser of the Moon and the Sun.
It is chanted every day, after sunset to get success in career, frame & occultism.
Gemstone is Gomed (Hessonite).
Ketu:
Palasha Pushpa Sankaasham
Taarakaa Graha Mastakam
Rowdram Rowdraat Makam Ghoram
Tam Ketum Prana Maa Myaham
Meaning: I pray to Ketu, who has the appearance of Palaasha flower, the head of stars and planets. He is violent and fearsome.
It is chanted every day, after sunset for success in love, marriage & prosperity
Gemstone is Lasniya (Cat's Eye).
There is a salutation mantra for the navagraha and it is as follows:
Namah Sooryaya Chandraya
Mangalaya Budhayacha
Guru Shukra Shani Bruhas Cha
Raahave Ketave Namaha
In this busy world, everyone is having some sort of mental stress, and chanting these mantras is sure to relax your mind, bring good fortune and prosperity to your life.