Surya – The Solar Deity is one of the primary Rig Vedic deities, and his following is widespread. As the central Graha in the Navagraha Mandala, or group of nine planets, Surya is present in most Hindu temples. Surya is also the main deity of the Souram sect, which is one of six main denominations of Hinduism.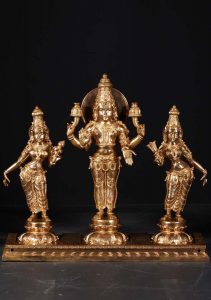 In the Navagraha Stotram of Vyasa, Surya is described as follows:
Japaa Kusuma Sankaasham Kaasya Peyam Mahaa Dyuthim |

Tamorim Sarva Paapagnam Pranatosmi Divaakaram ||
I pray to the creator of days, the destroyer of all sins, the enemy of darkness, the greatly lustered, the descendant of Kashyapa, and the one who shines like a red hibiscus.
Surya is also known as Aditya, as he is the son of Aditi and Kashyapa. When Surya married one of his consorts, Samjna, she could not bear his extraordinary radiance. Thus her father, Tvashtr, who was the artisan of the Gods, divided Surya into 12 parts of which Samjna spent one month of the year with each. Thus the 12 Adityas were born and represent a month each.
Surya's chariot is balanced on a singular wheel, which represents time. Each revolution of the wheel marks the passing of one year. The chariot is driven by Aruna, the red one, and is drawn by seven horses. Each of these horses represents a day of the week as well as a Vedic meter and is restrained by a rein that represents a season.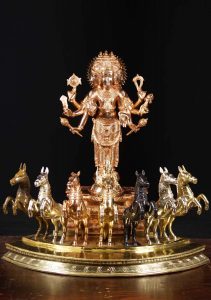 Iconographically, Surya is red in complexion, youthful, and golden-haired. He faces east with two, four, or eight arms and one or three heads respectively. His three faces represent the three Sandhyas – dawn, noon, and dusk. When Surya is depicted with two hands, he holds two fully blossomed, red lotuses.
There is a close connection between Surya and lotuses. The Lotus is one flower that blooms upon the morning's first rays of sunlight. Similarly, the Hindu concept expounded through the symbolism of Surya is that God is the sun that triggers man, a lotus, to blossom.
~Svasti~