'Bow down to Hanumān, who is the slayer of demons, and who is present with head bowed and eyes full of flowing tears wherever the fame of Rāma is sung.'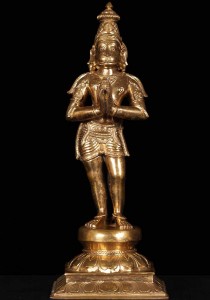 Hanuman is a renowned Hindu deity and eager follower of Rama, the seventh incarnation of Vishnu, according to Hindu myth.  Some Hindu texts also liken him as an incarnation of Shiva.  Depicted as an ape-like human, his facial features are characteristically monkey in form.  He is said to have been born to humanoid creatures known as vanaras, monkey-like human forms known for their brave and intellectual prowess.  His mother, Anjana, was born to earth as a female vanara due to a curse that could only be redeemed with the birth of a son.  His father Kesari joined his wife Anjana in prayer to Shiva for a child of their own.  Pleased with their endless devotion Shiva granted them a son, which was considered a reflection of Shiva himself.
Legend has it that Indra, King of Gods, struck Hanumans jaw during his youth, which left Hanuman disfigured with a protruding jawline.  Indra, God of Fire, had heard of Hanuman trying to take the Sun for himself mistaking it for a mango, interfering with the Vedic planet Rahu who was seeking the sun to turn its eclipse.  As punishment, Indra struck Hanuman with his lightning bolt, throwing him back to earth in an unconscious state.  Vaju, Hanumans main father figure and God of Air, went into seclusion out of despair, taking with him the world's air.  The Devas revived Hanuman out of devotion for Vaju allowing human beings to no longer suffocate from Vajus retreat and bestowed sacred gifts upon Hanuman.   Brahma, a prominent Deva, gave Hanuman the ability to cheat death at the hand of any weapon of war, the ability to bestow fear in enemies, extinguish fear in friends, change his form at will, and travel on a whim.  From Shiva he received longevity and insurmountable wisdom.  Indra blessed him with immunity from his lightning bolt and from Angi immunity from fire.
Hanuman received many sacred gifts from the most prominent Deities becoming a powerful deity from childhood.  He is known to be a profound scholar knowing all the Vedas and Scriptures by heart with flawless speech and written articulation.