"May Goddess Saraswati, who is fair like the jasmine-colored moon, and whose pure white garland is like frosty dew drops, who is adorned in radiant white attire, on whose beautiful arm rests the veena, and whose throne is a white lotus, who is surrounded and respected by the Gods, protect me. May you fully remove my lethargy, sluggishness, and ignorance."
Within Hinduism, Saraswati is the Goddess of knowledge, art, music, and science. Companion to Brahma, it is said that Saraswati was key to his creation of the Universe.  As his source of vital spirit and energy, she along with Goddess Kali and Lakshmi played pivotal roles in helping the gods shape and maintain the universe.  Saraswati also plays an important role in Buddhism as sacred devotee of Gautama Buddha making sure his teachings live on in practice.   She is daughter to Durga and sister to Ganesh.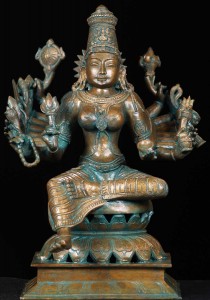 Saraswati is thought to contain the divine flow of all things serving as a beautiful body of knowledge and catalyst of learning throughout the world.  Her sultry appearance is striking and the epitome of feminine and divine beauty.  Her beauty is strategic in order to make knowledge and learning alluring to onlookers.  She is often depicted in flowing white to symbolize her purity and unmatched mind while seated upon a lotus flower which represents the light in knowledge.  By worshiping Saraswati one is able to realize the possibility of infinite knowledge and an endless quest of enrichment.  She embodies not only knowledge itself, but the highest of spiritual knowledge, much like Buddhist teaching of the Gautama Buddha reaching enlightenment.  Her potential is fully realized and as one follows her example they too can become enlightened.
Many devotees believe strongly in offering honey to goddess Saraswati during worship as a symbol of the purest of knowledge.
Click to learn more about Hindu goddess Saraswati.