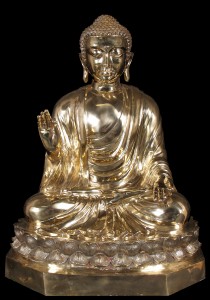 Zen Story –The Most Important Teaching
A renowned Zen master said that his greatest teaching was this: Buddha is your own mind. So impressed by how profound this idea was, one monk decided to leave the monastery and retreat to the wilderness to meditate on this insight. There he spent 20 years as a hermit probing the great teaching.
One day he met another monk who was traveling through the forest. Quickly the hermit monk learned that the traveler also had studied under the same Zen master. "Please, tell me what you know of the master's greatest teaching." The traveler's eyes lit up, "Ah, the master has been very clear about this. He says that his greatest teaching is this: Buddha is NOT your own mind."
"The mind, the Buddha, living creatures – these are not three different things" – ~Avatamasaka Sutra~
Zen Story – Nature's Beauty
A priest was in charge of the garden within a famous Zen temple. He had been given the job because he loved the flowers, shrubs, and trees. Next to the temple there was another, smaller temple where there lived a very old Zen master. One day, when the priest was expecting some special guests, he took extra care in tending to the garden. He pulled the weeds, trimmed the shrubs, combed the moss, and spent a long time meticulously raking up and carefully arranging all the dry autumn leaves. As he worked, the old master watched him with interest from across the wall that separated the temples.
When he had finished, the priest stood back to admire his work. "Isn't it beautiful," he called out to the old master. "Yes," replied the old man, "but there is something missing. Help me over this wall and I'll put it right for you."
After hesitating, the priest lifted the old fellow over and set him down. Slowly, the master walked to the tree near the center of the garden, grabbed it by the trunk, and shook it. Leaves showered down all over the garden. "There," said the old man, "you can put me back now."
"Adopt the pace of nature: her secret is patience"
~Ralph Waldo Emerson~
Zen Story – Going with the Flow
A Taoist story tells of an old man who accidentally fell into the river rapids leading to a high and dangerous waterfall. Onlookers feared for his life. Miraculously, he came out alive and unharmed downstream at the bottom of the falls. People asked him how he managed to survive. "I accommodated myself to the water, not the water to me. Without thinking, I allowed myself to be shaped by it. Plunging into the swirl, I came out with the swirl. This is how I survived."
"A Buddha is just someone with no concerns"
~Te-Shan~