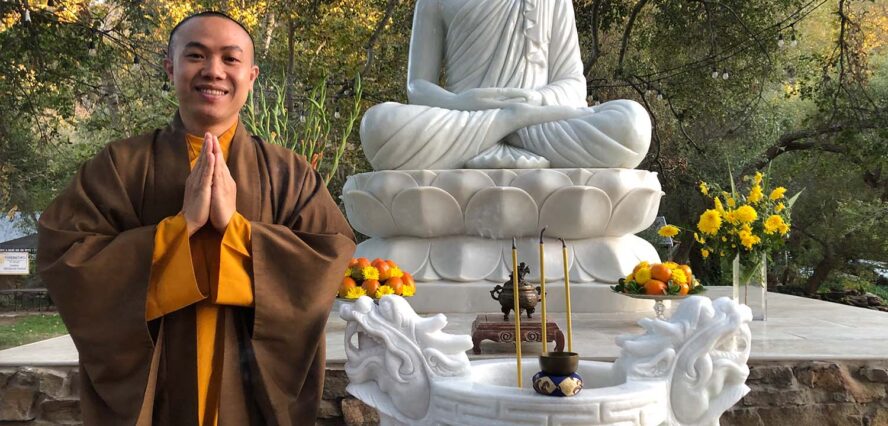 I remember the first time Tai came into our warehouse. I was instantly drawn to him and his bright youthful smile. He was dressed in his mustard-colored monk's robes with a brown shawl. He radiated bliss and happiness. He walked around the warehouse like he had been there a thousand times before, laughing as my dog, Oso, came up to greet him with a sniff, and taking pictures with my employee, Mark. He was looking for a Buddha statue for the main shrine of his new Temple in Valley Center, Dharma Mountain and Forest Meditation Temple (Thiền Viện Pháp Thuận). He was the happiest person I had ever met.
Since that first meeting, Tai has become a regular here at Lotus Sculpture. Over the years we have made several deliveries of temple sculptures to Dharma Mountain including a large 7 foot meditating Buddha sculpture that is nestled under a tree in their large open front yard. More recently, we delivered a large incense urn to be placed in front of the Buddha. It has been a pleasure visiting Tai over the years and watching the temple grow.

I have a deep sense of peace and contentment whenever I am in the open spaces of the temple with Tai. Oso is always welcome to join me. He runs freely on the grounds and has even jumped into the temple pond for a quick swim.

I always comment on the lifelong relationships I have developed with my artisans. The relationships that have blossomed between my customers and I have been just as valuable and have brought Tai's blissful disposition into my life. For that, I am forever grateful.

~Kyle Tortora, Founder, Lotus Sculpture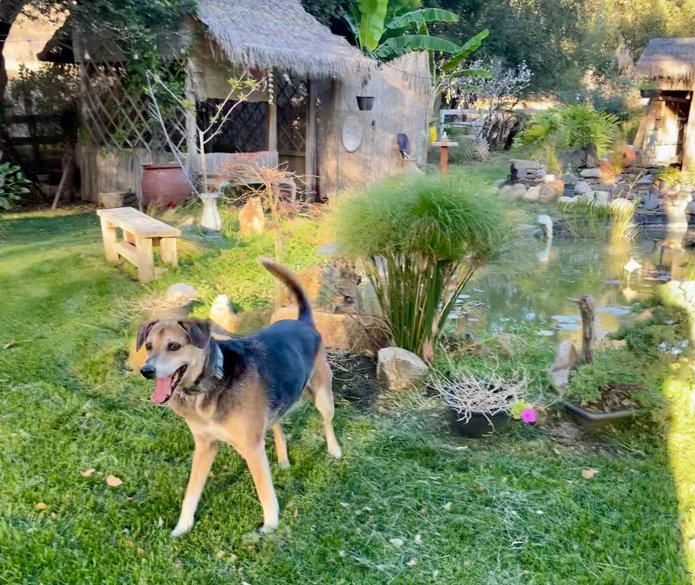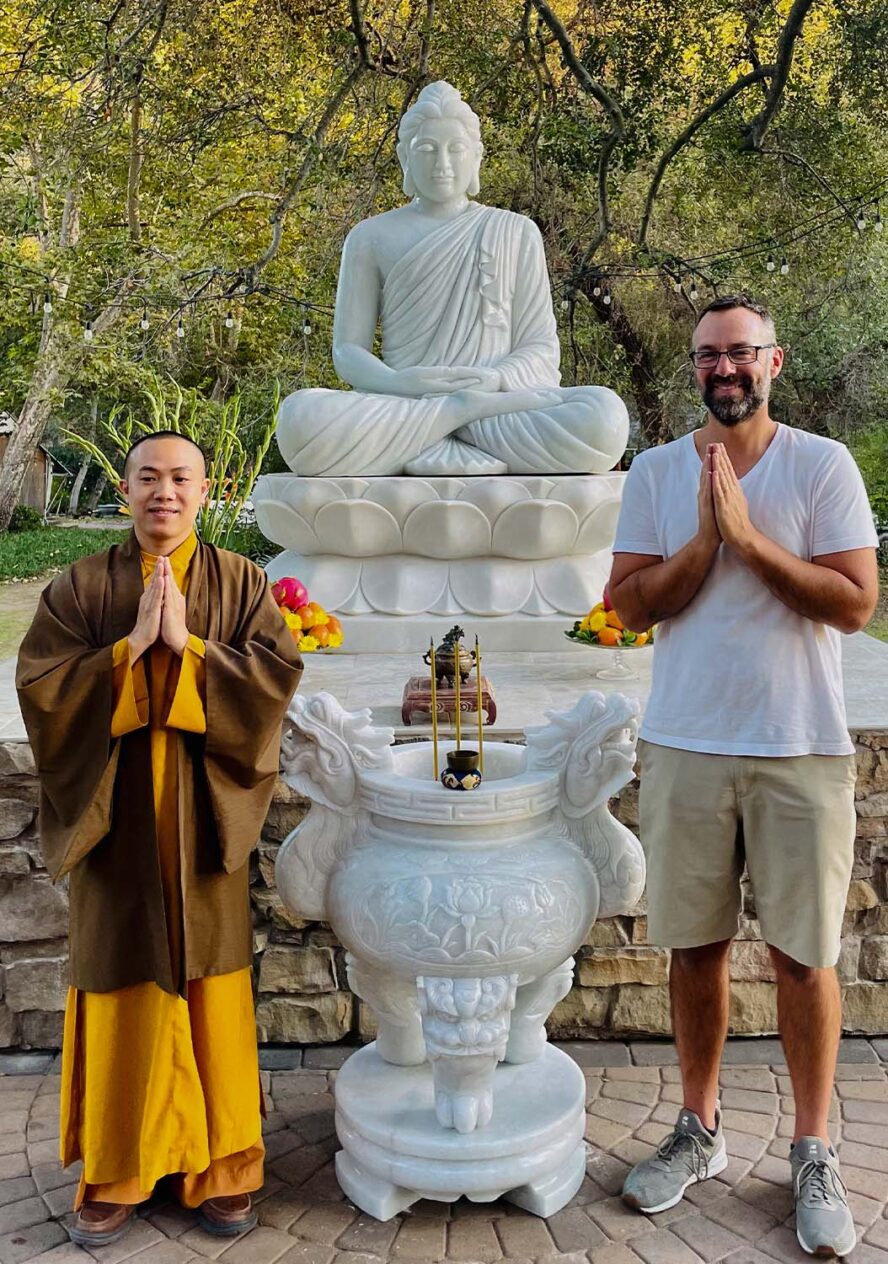 Our huge 50″ Buddha Head Fountain is one of our best-selling items. This fountain weighs a whopping 650lbs (head+basin). That said, the Buddha Fountain installation process takes time, careful preparation, patience, and in this case, a good friend.
Buddha made the long journey from Oceanside, California to the beautiful community of Niagra-on-the-Lake in Ontario, Canada.
When it came time for the Buddha Fountain installation, our customer, Greg, called his local fountain retailer who informed him that the Buddha was too heavy and too wide for them to move it. He then contacted a landscaping company that would not have been available to come out for another two weeks… That's when Greg and his *neighbor of the year* Paul decided to install the Buddha themselves with just a couple of dollies, a crowbar, and a hammer.

Enjoy their journey…
>>>Click here to view our 50″ Buddha Head Fountain<<<
The Buddha Fountain Arrives!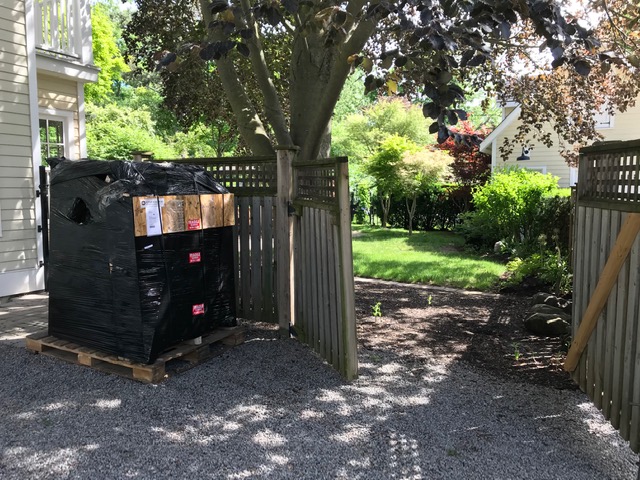 Along comes Greg's neighbor Paul to check in on the progress. Little does he know he is about to save the day.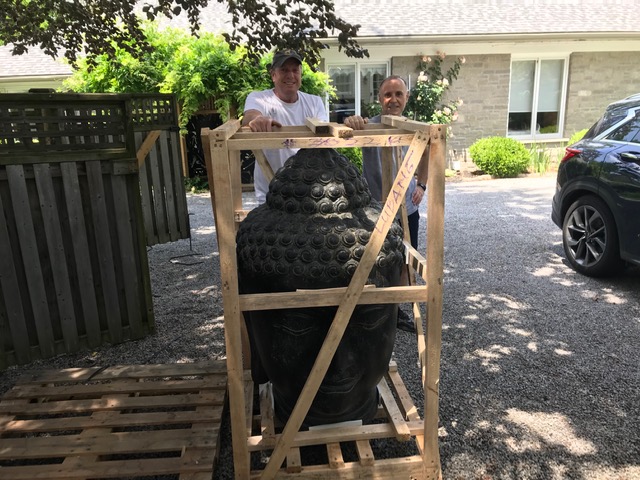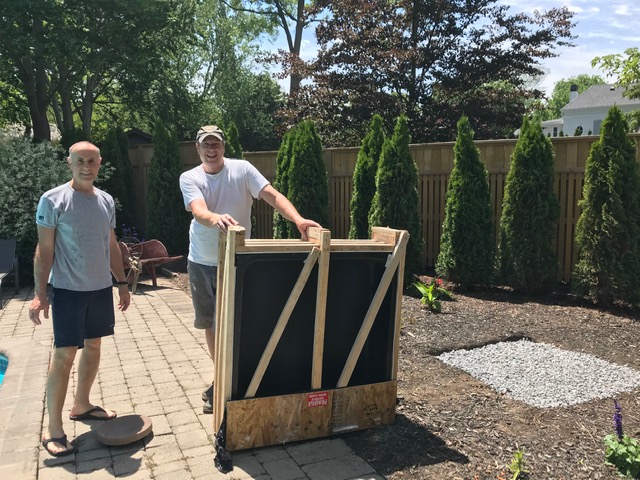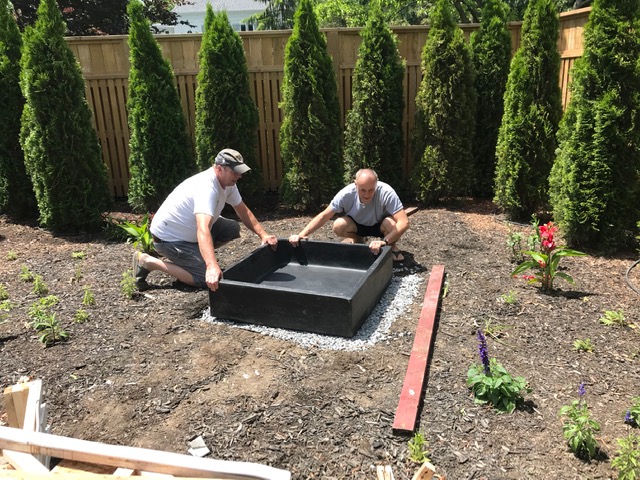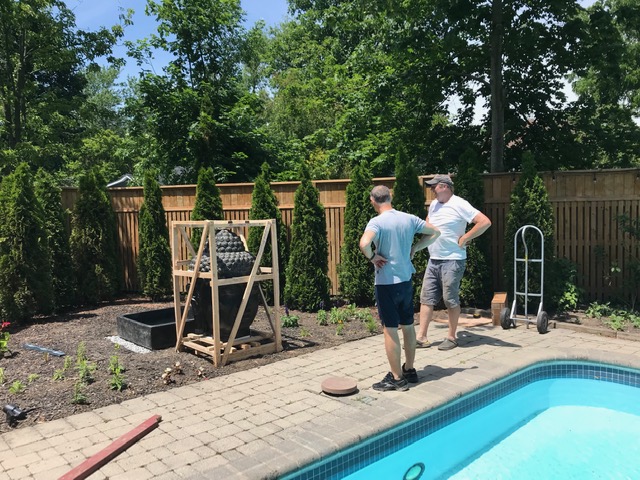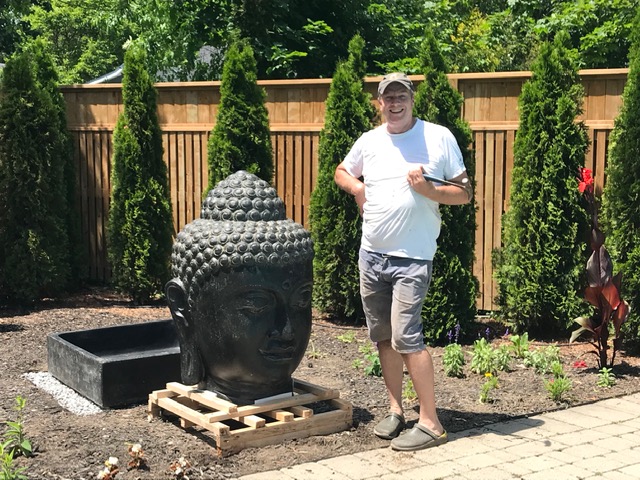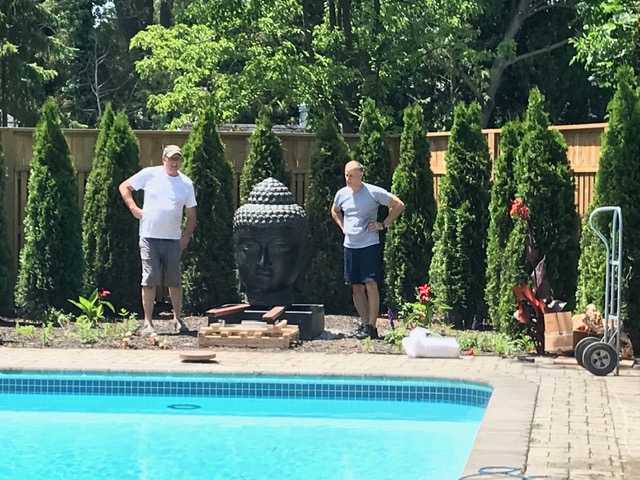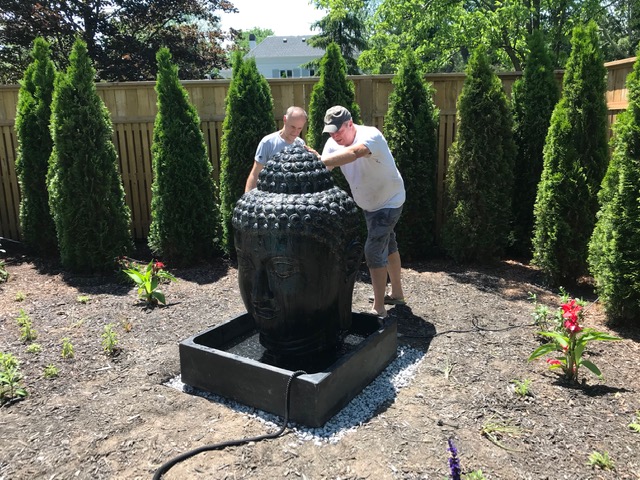 Moved and assembled in less than an hour!
Cost: 2 bottles of Mineral Water!