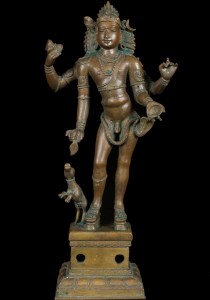 Hindu God Shiva, The Destroyer, comes in many forms.   One such important form and his most fear invoking is that of Bhairava, the annihilator of evil.   This fierce form is manifested when demons make themselves present and are in need of destruction.  Shiva in this form is often depicted draped in serpents as jewelry, wrapped bare naked in tiger skin, and decorated in a ritual adornment of human bones riding atop his divine vehicle, a dog named Shvan.  His frightful characteristics as banisher of evil are almost indistinguishable from Hindu Goddess of Death Kali.   He is seen with devastatingly angry eyes, sharp teeth, and carrying a noose, trident, and skull within his hands. In this form he is said to embody the very essence of fear itself, often forcing those who come upon him to confront their most terrifying sources of fear
The origination of Shiva as Bhairava is said to have been by Shiva himself in order to chastise Brahma, the great creator of the Universe.   Legend has it that Brahma lusted after his own daughter and created four heads in order to constantly be able to see her. His desires for his daughter caused her shame and she is said to have ascended to the heavens in escape.  Brahma then created a fifth head and insisted on her letting him live with her.  Upon hearing of this, Shiva used his sword to rid Brahma of his new fifth head.  Seeing this as an act of killing, Shiva was punished to walk the earth as a beggar carrying around the fifth head of Brahma until he was forgiven of his sin, in which case the skull of Brahma would finally fall from his hands.  Many did not recognize Shiva in his naked and violent beggars form as he howled and danced in madness.
Finally one day as Shiva enters the holy city of Varanasi, the skull falls from his blackened hands and he is rid of Brahmas curse.