Like many of the Hindu deities, Hindu God Shiva is said to have many Avatars.  One such Avatar is that of Virabhadra.  Virabhadra is said to have been born when Shiva grabbed a lock of his own hair and threw it upon the ground.  He was a powerful being created by Shivas wrath when we wanted to destroy Dakshas Yagna, or fire sacrifice.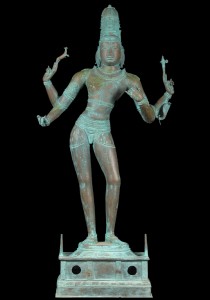 Legend has it that Dashkas youngest daughter Sati set her sights on Shiva at a young age.  When she was at an age to marry, Dashka invited all the gods and princes together to find a suttor for her, leaving out Shiva.  Furious that he did not invite the one she loved, Sati threw her wreath into the air calling upon Shiva.  Shiva appeared with the wreath around his neck, forcing Dashka to allow her to marry her.  Disapproving of the match however, Dashka again omitted Shivas attendance to a great fire sacrifice.  Sati, out of fury, confronted her father.  She condemned his actions and fell dead at her father's feet.
When Shiva heard of this, he became enraged.  Out of anger, her tore out a lock of his hair that with glowing with his furious energy.  At this moment Virabhadra was born. His tall menacing body had a thousand arms, 3 burning eyes, and fiery hair.  He was draped in skulls and carried unfathomable weapon.  Shiva instructed him to destroy the fire sacrifice of Daksha and sever Daksha's head.  Vuraghadra is a said to be a tremendous warrior causing other gods to flee the battle field whenever he appears.  No gods are a match to his fury and strength in battle.
To Learn More About the Hindu Gods CLICK HERE