According to yogic traditions of both Buddhism and Hinduism, chakras are believed to be energy centers within the body. Each of the chakras corresponds to both an important part of our physical body as well as what is referred to as our 'subtle body' or spiritual body containing the universal force. Rooted in the Sanskrit word for 'wheel', the chakras are believed to be in an endless rotation of Shakti or the sacred force.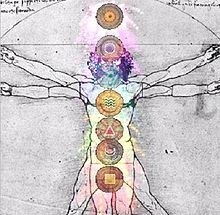 Located along a central channel, the chakras are spaced intermittently from the crown of the head to the base of the spine in correspondence with key areas of our bodies. Although the total number of chakras varies from teacher to teacher, many westerners define 7 major chakras: the root, the belly, solar plexus, heart, throat, third eye, and ultimately crown. Each of these must remain healthy in order for good energy flow.
It is believed that if the chakras are not in balance with one another or are blocked, the universal force running between them will be slowed leaving one feeling unwoven, tired, stressed, and in cases susceptible to disease. A flowing balance between the chakras is vital to feeling an overall sense of health and well being.
Meditation can be used both to diagnose the health of our chakras as well as to heal and achieve balance within them. If you are currently feeling sluggish, tense, overwhelmed, or just plain overworked, your vital energies may be unbalanced. Try bringing meditation into your life as a healing power. There are many exercises and meditative techniques to help you once again achieve balance. Practice meditating at least once a day to promote relaxation. Start with small increments and work your way up in time as you become more skilled at keeping focus.