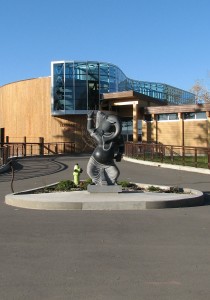 In 2006, the Calgary Zoo, with the help of a private donor, commissioned Lotus Sculpture to custom make a nine-foot tall, 5-ton statue to be displayed in front of their new Elephant Crossing exhibit. The sculpture, which was modeled after the Hindu god Ganesh, was beautifully hand-carved with polished Indian black granite and took approximately one year to complete. The statue's proportionate size, with the head of an elephant and bulbous trunk, uplifted arm, slight chest, potbelly, huge thighs, and chubby feet fit together with perfection. Much thought, and many fine details were carved into this work of art.
The zoo, with consideration of their guests, removed all of Ganesh's religious symbols before it was erected. The statue was meant to show the link between elephants and Asian culture, not to represent a religious icon. Once installed, the 'dancing elephant' still brought about a 'handful' of complaints and unwanted controversy to the exhibit. A Canadian Christian group organized a campaign to protest the statue, citing "selective religious partiality and indoctrination". Despite the few grievances, the zoo did not remove the sculpture. It still stands peacefully today (for now).
Unfortunately, it was recently announced that the Calgary Zoo will be closing the Elephant Crossing exhibit, where it holds one bull and three female endangered pachyderms. The climate is too cold for the small herd. The time-frame of their departure could take up to five years, as one female is pregnant and not due to give birth until February 2013. Likely, once born, they will not relocate the group to another zoo until the baby is at least four-years-old. The elephants will go away one day, but the $11-million, taxpayer-funded building will remain and house a new species. The zoo anticipates continuing the focus on an Asian theme, with animals that are better suited to the climate of Calgary. Hopefully, with keeping in line of the Asian theme and culture, the beautiful, carefree, and loving Ganesh statue will remain the gatekeeper of the exhibit and for all visitors to enjoy.
Click here to view the stone dancing Ganesh statue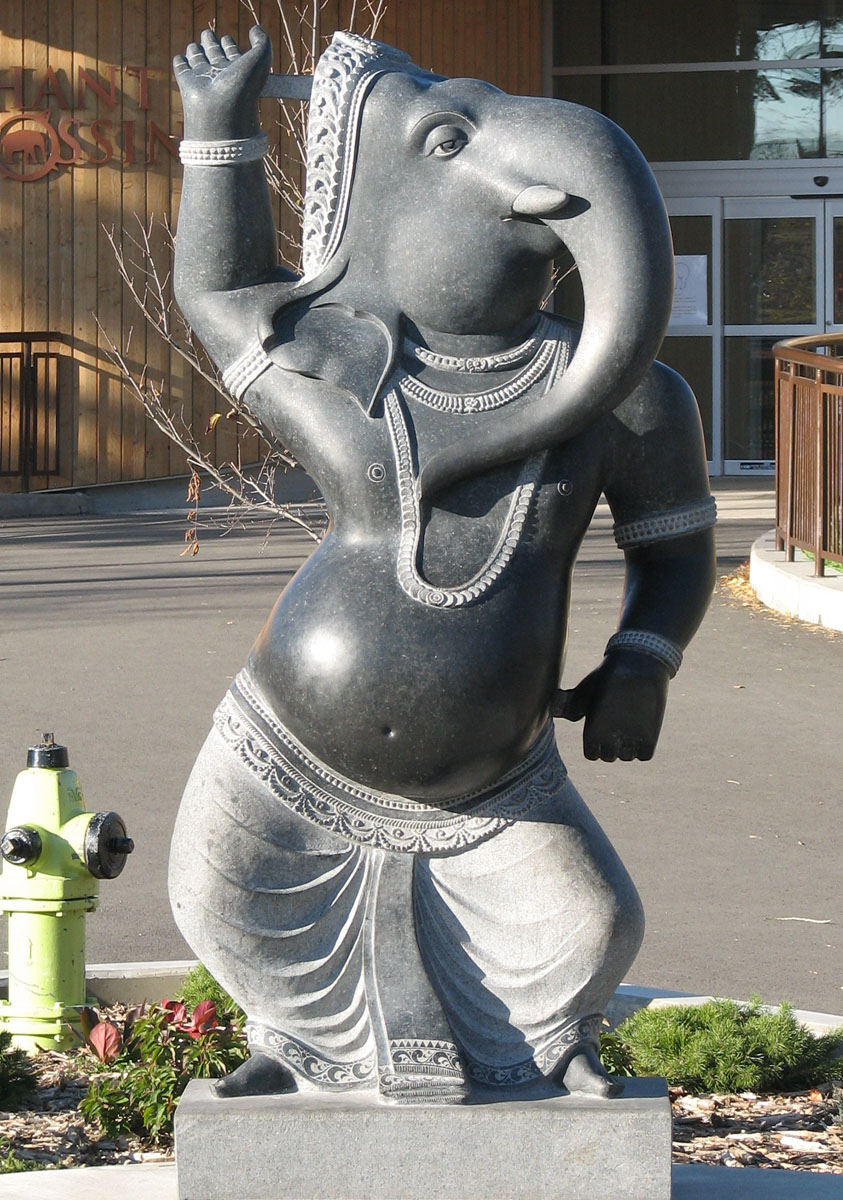 .