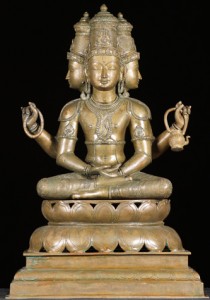 When one comes across statues of the Hindu God Brahma, the God of Creation, he is dripping in symbolism.   Brahma is unique in that he has four faces and four hands.  He often carries a book and prayer beads.  In all Hindu sculpture the things the gods carry; weapons, books, bowls, the amount of faces and arms the god has, how they wear their clothes, the crown or jewelry they wear each have symbolic meaning going back centuries to the origins of Hinduism.  Lord Brahma the creator is no different.  Here we will outline some basic symbols of Brahma.
Brahma's Four Hands:  Brahmas four hands symbolize each of the four Vedas: Rk, Sama, Yajuh, and Atharva.  The Vedas are a body of ancient Sanskrit texts originating in India.
Brahma's Four Faces:  Brahma has four faces that point in the four main directions north, south, east, and west.  In a more figurative sense they represent the more virtuous qualities of the mind, intellect, ego, and self-confidence.
Book:  Brahma often holds with one of his hands a book which symbolizes knowledge in the world.
Swan:  Brahma is often seen riding a swan, his sacred vehicle for which he travels upon.  The swan is a supposed to symbolize grace.  The kind of grace fitting of the great Creator.
Crown:  Brahma wears a crown which symbolizes his supreme authority over the world as the God of Creation.
Lotus Flower:  Brahma is often depicted with a lotus flower.  The lotus flower represents nature and the all-encompassing energy of creation.  The lotus is more commonly associated with the Hindu Goddess of wealth Lakshmi.
Gold: Brahma's golden face and adornments represent his most active role in the creation of the universe:
Prayer Beads:  Prayer beads symbolize all the substances that go into the creating the universe.