The Hindu God Ganesha is considered to be the master of wisdom, guardian of knowledge and obstacle remover. All the devotees invoke prayers in favor of Ganesha to bring in positive energy to them and favorable results to their ventures. The Ganesha mantras are also known as Siddhi Mantras. Ganesha is known in different forms and by a number of names, and some of the names are Ganapati, Vignesha, Pillayar, Vinayak, Ekadenta, Lambodara, Gajanana.
Ganesh is usually depicted colored red; he is pot bellied, has one tusk broken, and has four arms that may hold a noose called a pasam, an elephant goad, and a pot of rice, or his favorite sweets, laddus. His appetite for these sweets is legendary and offerings of them are often left at his shrine.
Ganesh is also patron of letters and of learning; he is the legendary scribe who, using his commonly held broken tusk, wrote down parts of the Mahabharata Epic.
Here, are some of the most popular mantras of Lord Ganesha, which are used to please Him.
---
1. Ganesha Dwaadasha Nama shlokam:
This prayer mentions the 12 names of the Lord Ganesha. These verses are believed to be recited by Sage Narada in order to please Lord Ganesha.
"Pranamya Shirasa Devam
Gauriputram Vinaayakam
Bhakataavaas am Smare
Nityam Aayush Kaamartha Siddhaye"
Meaning: Salutations to the Lord, who is the son of Gowri, and He who resides deep in the heart of the devotees, blessing them always with good health and prosperity.
"Prathamam Vakratundam
ChaEkadantam Dwiteeyakam
Thriteeyam Krishna Pingaaksham
Gajavaktram Chaturthakam"
Meaning: This stanza marks the beginning of twelve names.
First as the Lord with the curved trunk;
Second as the one with only one tusk,
Third as the one with black (red/brown) eyes,
Fourth as the one with giant structure
"Lambodaram Panchamaam
ChaShashtam Vikatameva
ChaSaptamam Vighnaraajendram
Dhoomravarnam Tathaashtamam"
Meaning: Fifth, as the one with a big (long) stomach,
Sixth, as the one with a huge body,
Seven, as the remover of obstacles,
Eighth, as the one with smoke gray color
"Navamam Phaalachandram
ChaDasamam Tu Vinaayakam
Ekaadasam Ganapatim
Dvaadasam Tu Gajaananam"
Meaning: Ninth, as the one with the moon on the front of His head,
Tenth, as the foremost leader,
Eleventh, as the leader of the ganas,
Twelfth as the one with elephant face
"Dvaadasaitaani Naamaani
Trisandhyam Yah Pathernnarah
Na Cha Vighna Bhayam
TasyaSarva Siddhikaram Prabho"
If a person remembers these twelve names of the Lord Ganesha, three times in a day. Then he will have all his obstacles and fear removed and will attain success.
2. GanaNayaka Ashtakam:
This mantra contains eight verses or hymns for invoking Lord Ganesha.
"Ekadantam Mahaakaayam
Taptakaajnchana sannibham
LambodaraM VishaalaaxaM
Vande Ham GaNanaayakam"
Meaning: You are one tusked, have a huge, massive and a hot-golden colored body. You have a large pot like belly, beautiful eyes. I bow to you the leader of ganas (followers of Lord Shiva
"Mounji Krishnajeenadharam
NaagaYagnopaveethanam
Bhalendu Sakalam Moulim
Vande Ham Gananayakam"
Meaning: You are the one who is victorious and has the smoke-hued color body and who uses snake as a holy thread that is tied around the belly. The one who has a waxing moon on his head, I bow to you the leader of the ganas.
"Chitraratna Vichitragam
Chitrmaalaa Vibhushitham
Kamarupadharam Devam
Vande Ham Gananayakam"
Meaning: The one who makes a picture-perfect pose. He has a garland adorning around his neck and takes the form of Kama Roop. I bow to you the leader of ganas.
"Gajavaktam SuraSreshtam
Karnachamara Bhushitham
Pasamkusadharam Devam
Vande Ham Gananayakam"
Meaning: The one with an elephant face and still considered the best. He is beautifully adorned with karnchamra. He holds Pashan and Kusha, weapons used in war. I bow to the leader of the ganas.
"Mushikootham maaruhya
Devasura Mahaahavey
Yooddukamam Mahaaveeram
Vande Ham Gananayakam"
Meaning: He uses mooshika as his chariot, the one who is prayed by everyone and the one who is an exceptionally valiant. I bow to that Lord Ganesha.
"Yaksha Kinnera Gandharva
Siddi Vidhyadharay Sadha
Stutyamanam MahaaBhaahum
Vande Ham Gananayakam"
Meaning: The one to whom yaksha, kinnera and gandharva pray. He is the only one who has the vidya to acquire opulence, and whose prayers are sung by people. He who has strong arms, I bow to the leader of the ganas.
"Ambika Hryudayanandham
Matrubhihi Pariveshtitham
BhaktaPriyam Madhoonmatham
Vande Ham Gananayakam"
Meaning: He is the one who is dear to the mother, who is always ready to serve his mother anytime, who is dear to his devotees and who ends the wars; I bow to the leader of the ganas.
"SarvaVignaharam Devam
SarvaVigna Vivarjetham
Sarvasiddi Pradhataaram
Vande Ham Gananayakam"
Meaning: He is the Lord who can take care of all our problems, who weakens all the obstacles and problems that come our way to success and the one who gives all types of Siddhi. I bow to the leader of the ganas.
"GanAshtakam Idham Punyam
Yah Pateth Satatham Narah
Siddyanthi Sarva kaaryaani
Vidhayaavan Dhanavaan Bhaveth"
Meaning: This GanAshtakam gives the virtue to those who read it with devotion. This Ashtakam proves beneficial to those who read it, as it makes the person intelligent and wealthy.
"Om gam ganapathi namaha"
Meaning: Om –Salutations to the Lord.
Gam — the secret power sound of Ganesh and is known as His bija mantra.
Ganapathi — Another name of Ganesh
Namaha – I bow to you, my Lord.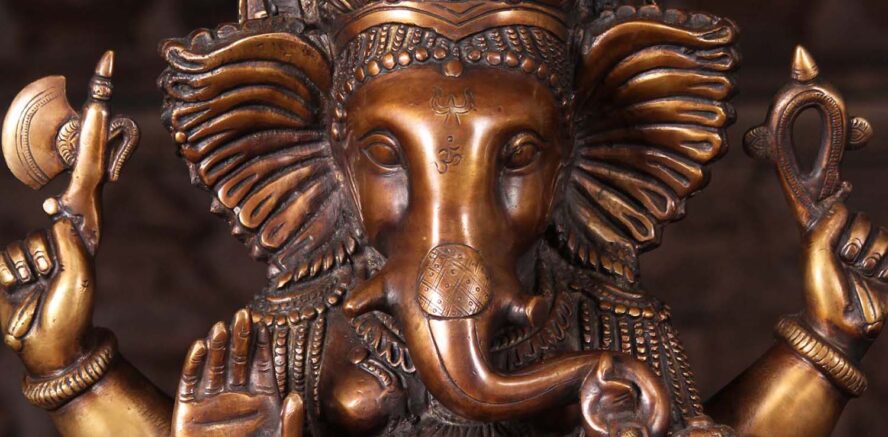 3. Bija Mantra
"Aum shrim hrim klim
glaum gam ganapataye
vara varada sarva
janamme vashamanaya svaha"
4. Ganesh Gayatri Mantra
"Aum Ekadantaya Vidmahe Vakratundaya Dheemahi
Tanno Danti Prachodayat Aum sri kaala svaroopaaya Vidmahe
Kaalaatheethaaya Dheemahi
Thanno kaala yoga shodasa ganapathi prachodayath"
Meaning: We devote our thoughts to the One Tusked Lord. We meditate upon Him who has a Curved trunk and May the tusked one guide us on the right path.
View quotes about Lord Ganesha
---
View All Our Mantras to Hindu Gods
including English and Sanskrit translations