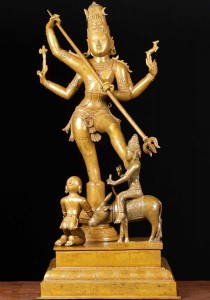 The vast corpus of Vedic literature refers to various sportive forms, or leela murtis, of Lord Shiva. One of the most important of these forms is that of Shiva as the destroyer of death. Kalasamhara Murti or Kalantaka Murti is the form of Shiva in the act of vanquishing the god of death and righteousness, Yama-Dharma Raja.
The Puranas tell the story of Saint Mrikandu and his virtuous wife Niyati who yearned for a child. They performed austere penances to Lord Shiva to bless them with the issue. Pleased with their devotion, Shiva appeared to the couple and asked them whether they wanted a wicked son who would live till old age or a pious son who would live until 16 years of age. They requested the latter, and thus Markandeya was born.
On the eve of his 16th birthday, Markandeya embarked on a vigil to Lord Shiva. Yama – endeavoring to take Markandeya's life away – entered the altar, as he was deep in meditation to Lord Shiva. Yama took his noose and threw it around Markandeya's neck. Aghast, Markandeya grabbed the Shiva Lingam and began singing to his protector.
"Oh Shiva, adorning the moon as your crown, protect me! Save me!"
With the noose tight around his neck, Markandeya hugged the Shiva Lingam. Consequently, Yama's noose touched the Lingam and enraged Parvathi. Immediately the Lingam split and Shiva emerged. Parvathi, who resides in the left side of Shiva, kicked Yama to the ground to protect her devotee. Shiva lifted his trident and pierced Yama's chest, leaving the God of death for dead.
Afterward, Shiva picked Markandeya up and placed him in his lap. He asked Markandeya to request a boon. Markandeya, from the kindness of his heart, asked Shiva to resuscitate Yama.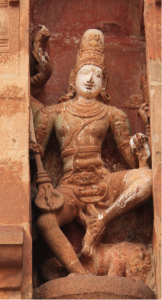 After being revived, Yama – the king of righteousness – innocently asked what he had done wrong to warrant such a gruesome death. Shiva responded that Yama's only fault was misunderstanding Shiva's boon to Saint Mrikandu. Markandeya was to live only till age 16, and thereafter remain immortal and ever-youthful as a 16-year-old.
This event is said to have occurred in Thirukkadaiyur, Tamil Nadu, where the entire story is captured magnificently in bronze. The statue of Kalasamhara Murti in Thirukkadaiyur is the reference for South Indian bronze artists who wish to capture this beautiful form of Shiva.
Since the depiction of death is deemed inauspicious within the Vedic temple, in Thirukkadaiyur the body of Yama is covered with a silk cloth and removed only occasionally. Thus most idols meant for home worship do not actually depict Yama's death, but rather the moments leading up to it. As is the case with any powerful form of Shiva, a statue of Parvathi is often kept to the left of it to bring peace to his power.
~Svasti~