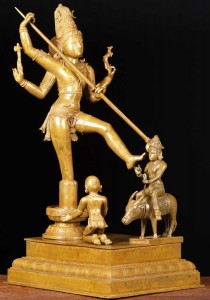 The Mahamrityunjaya Mantra, can be found in the verses of Rig Veda and also recurs in Yajur Veda. Since, the Mantra is addressed to Tryambaka (the three-eyed one), it is also known as Tryambakam Mantra. The Mantra is also known as Rudra mantra (Rudra is the fiercest form of Lord Shiva) and Mrita-Sanjivini mantra.
The Mantra was revealed by Sage Markendaya and is considered as the secret mantra that has saved the sage from Yama the Hindu God of Death. There is a legend which depicts that with the power of this Mahamritunjaya Mantra, Markendaya was protected by Lord Shiva from death. Mrikandu rishi and his wife Marudmati, the parents of sage Makendeya, were great devotees of Lord Shiva and they prayed for a son to the Lord. Lord was pleased in their worship and gave the childless parents two options to choose from. They can either have an intelligent son with short life, or a son with less intelligence but with a long life.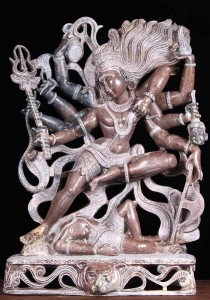 The parents opted for the first choice and their wish was granted by Lord Shiva. They were blessed with a smart baby boy, Markendeya, who was fated to die at the age of 12. Markendeya grew up with great devotion to Lord Shiva and worshiped Shiva Lingam. When he reached the age of 12, the messengers of Yama came to take the young sage, but he chanted the Mahamrityunjaya Mantra with intense devotion, which made it impossible for the messengers to take his life. This made Yama furious, he came in person and sprung his noose around the sage but, accidentally the noose fell around the Shiva Lingam. This act of Yama made Lord Shiva furious and finally Yama was defeated by Shiva. Thus, Markendeya was saved from death and this mantra came to be known as Markendeya Mantra.
Mahamrityunjaya Mantra is a blend of three Hindi language words i.e. "Maha" which means Great, "Mrityun" means Death and "Jaya" means Victory. Here, is the Mantra and its meaning:
Om tryambakam yajamahe sugandhim pusti vardhanam Urvarukamiva bandhanan mrtyor mukshiya mamritat
Translation: Om. We worship and adore you, O three-eyed one, O Shiva. You are sweet gladness, the fragrance of life, which nourishes us, restores our health, and causes us to thrive. Just as the ripe cucumber is automatically released from the creeper, may we be liberated from death, and do not withhold immortality.
Direct Translation:
OM –Symbol of underlying reality
tri-ambaka-m — "the three-eyed-one"
yaja-mahe — "we praise"
sugandhi-m — "the fragrant"
pusti-vardhana-m — "the prosperity-increaser"
urvaruka-m — "disease, attachment, obstacles in life, and resulting depression"
iva "–like"
bandhanat — "from attachment Stem (of the gourd); but more generally, unhealthy attachment"
mrtyor — "from death"
mukshiya — "may you liberate"
ma — "not"
amritat — realization of immortality

Significance of the Mantra: It is believed that chanting the Mahamrtiyunjaya Mantra will lead towards spiritual liberation. The Mantra is so powerful that it can relieve people who are suffering from some severe disease or having the fear of sudden death. It gives high concentration power and guarantees mental peace.
How to use Mahamrityunjaya Mantra?
You can use this mantra in two ways – Chanting this mantra 108 times, daily will bring happiness and prosperity to your life. 108 times is important as it is the product of 12 (Zodiac Signs) and 9 (Navagrahas).
You can seek the help of a priest who will chant the mantra one hundred thousand times to relieve the person, who has arranged for the pooja, from the fear of unnatural death or serious disease.