"Agni I laud, the high priest, god, minister of sacrifice, the invoker, lavishest of wealth." Rigveda
Agni, Hindu God of Fire, is one of the most renowned Hindu deities within the Rigveda. Fire is a central component of all Vedic rituals.  According to Vedic myth he is second in importance to only his twin brother Indra, Lord of the Heavens, and is distinguished as the supreme director of religious ceremonies serving as a middleman delivering Gods word to man.  Agni is said to be a divine model for all priests, mediating between the Gods and humans.  Priests should aspire to mirror his image in practice and devotion as he projects a patient and dignified reflection.  No Vedic sacrificial ritual is complete without his presence.  Angi is often depicted as having either two or seven hands, two heads, three legs, and seven fiery tongues as he rides atop a ram or fiery chariot.
As oldest son of Brahma, Agni joins with Indra and Surya, the Lord of the Skies, in the first Hindu holy trinity.  He is said to embody ten forms, the first five of which are physical forms, and the last five ritual forms: ordinary fire, lightening, the sun, digestive fire, destructive fire, fire lit by sticks for ceremony, fire for home worship, fire given to initiate students, funeral fire, and fire of the ancestors.  Although mostly seen as religious teacher, Agni is also sometimes feared for his destructive capacities.  He is priest of Hindu Gods and God of priests.  Among certain Vedic hymns, Agni can even be portrayed as that as a Supreme God:
'Commingling, restless, he ascends the sky, unveiling nights and all that stands or moves, as he the sole God is preeminent in greatness among all these other Gods.'
Agni is one of the only Vedic deities to be so highly regarded still into present day.  All life's journeys are presided over by Agni and end with Agni as funeral fire marks our eventual end.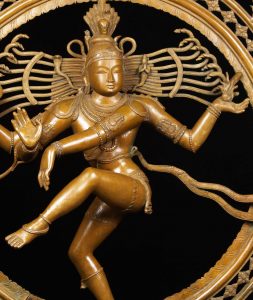 Agni is rarely depicted in sculpture as a stand alone figure.  However, he is included in one of the most recognizable poses in all of Hinduism; Shiva as the Lord of Dance Nataraja.  Shiva holds the a burning flame in the palm of his left hand.  The flame represents the Hindu god Agni.