"You don't preach Zen. Neither do you learn it."
~Zen Saying~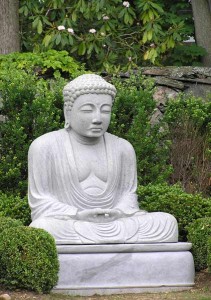 Zen Buddhism is a philosophy emphasizing that enlightenment and Nirvana are reached through deep meditation, intuition and spiritual contemplation, rather than ritual worship or study of scriptures. This new version of Buddhism developed into two schools of thought. One Zen belief is that attaining enlightenment is a gradual process, with the help of daily meditation and spiritual devotion. The other Zen notion is that enlightenment comes in an instant; a sudden understanding of one's existing inner-Buddha. The intrinsic concept of Zen Buddhism is that everyone takes their own individual path to reach spiritual bliss and contentment.
Throughout history, many Zen-masters have emerged to teach students through storytelling with anecdotes based on interpretations of Buddhist perspective. These stories emphasize a spiritual awakening and push the mind into new ways of thinking and reflecting on life. Many Zen stories are inter-woven with Buddhist philosophies, such as the Four Noble Truths and the Eightfold Path.
The Four Noble Truths:
Life means suffering
The origin of suffering is attachment
The end of suffering is attainable
There is a path to end suffering
The Eightfold Path:
Right View
Right Intention
Right Speech
Right Action
Right Livelihood
Right Effort
Right Mindfulness
Right Concentration
Lotus Sculpture would like to share a collection of short stories, mostly Zen and Taoist tales, to awaken the spirit and bring peace of mind. The beauty of the simplicity behind the messages can be interpreted in many ways – the lessons you take from them are a reflection of who you are.
"We are what we think. All that we are arises with our thoughts. With our thoughts, we make the world." –The ~Buddha~
Zen Story –Sounds of Silence
Four monks decided to meditate silently without speaking for two weeks. By nightfall on the first day, the candle began to flicker and then went out. The first monk said, "Oh, no! The candle is out." The second monk said, "Aren't we not suppose to talk?" The third monk said, "Why must you two break the silence?" The fourth monk laughed and said, "Ha! I'm the only one who didn't speak."
"To the mind that is still, the whole universe surrenders." –Taoist Saying
Zen Story –It Will Pass
A Student went to his meditation teacher and said, "My meditation is horrible! I feel so distracted, or my legs ache, or I'm constantly falling asleep. It's just horrible!"
"It will pass," the teacher said matter-of-factly.
A week later, the student came back to his teacher. "My meditation is wonderful! I feel so aware, so peaceful, so alive! It's just so wonderful!"
"It will pass," the teacher said matter-of-factly.
"Do not follow the ideas of others, but learn to listen to the voice within yourself." –Zen Master Dogen