"Shiva returned and fitted the elephant head on the child's body and breathed new life into the boy."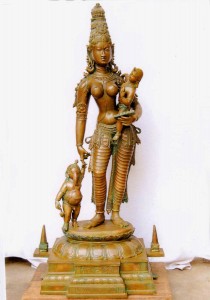 In Hindu mythology, traditional stories have been passed down for generations regarding the birth of Ganesh and the reason behind his elephant head. Ganesh is the son of Lord Shiva, the Destroyer and Restorer, and his wife Parvati, an incarnation of the Great Mother Goddess, Devi. They lived high in the Himalaya Mountains, where Lord Shiva was away for many years at a time, creating, destroying, and preserving life. While Shiva was absent, Parvati became very bored and lonely, and her motherly instincts made her yearn for a son.
Legend says that Parvati decided to create a baby by scrubbing her skin with sandal paste and mixed it with clay to mold a figure of a boy. She used her powers to breathe life into the clay mold and instantly fell in love with the boy. One day, while Shiva was still away, Parvati asked her son to guard the entrance to her room and let no one enter, while she took a bath. Unannounced, Lord Shiva returned home and was refused entry by this boy who was a complete stranger. Irritated by the child's insolence, a battle ensued and Shiva cut off the head of his young son with his trident.
When Parvati discovered her headless son, she was stricken with such grief that she threatened to destroy the heavens and earth. With the balance of the entire Universe at stake, Shiva wanted to console his wife and bring his son back to life. Lord Shiva and his troops set out into the forest to find anyone sleeping with their head facing north (the auspicious direction associated with wisdom). The first living being they came upon was a baby elephant and took its head. Shiva returned and fitted the elephant head on the child's body and breathed new life into the boy. His wife's reaction was one of enchantment and she declared this boy was even better than her first creation. They named their son Ganesh. Lord Shiva praised his son for his courage by being made Lord of New Beginnings and guardian of entrances. Ganesh is worshiped at the beginning of any new undertaking to reach success and a safe journey.
Ganesh Chaturthi is the celebration to honor the birthday of the Lord of Beginnings. It falls on the fourth day after the new moon in the month of Bhadrapada (August – September).