Article written January 20th, 2020 by Kyle Tortora
It has been a very long time since I have been put through the ringer like I have been in the past 48 hours. My buying trip to Hanoi has sent me through the gamut of emotions from pure elation, to utter and complete disappointment, to acceptance and now, to hope for the future… here's why.
ELATION!

Hanoi! It is a fantastic city full of life and energy. It has a true beating heart and a vibrancy you just feel when you walk around. I came here in search of wooden Buddhist statues carved in rich exotic woods that I have only seen in pictures through the years. The first morning after my arrival I was picked up by my friend's cousin, Lan, who lives just outside Hanoi. The plan was for him to take me to Du Du village known for its long history of wood carvings. The village had all these little workshops on the side of the road, I counted about 10 on the first pass. We stopped at the shop of Lan's friend, Hang, who is an artist in the village. Hang is a 5th generation woodcarver in his family. Looking at the detail in his carvings it was evident that this skill was part of his DNA, it was in his blood. I was not familiar with who Bodhidharma was but when I took one look in his eyes I was hooked! Bodhidharma was a Buddhist monk who is credited with bringing Chan Buddhism to China and who also began the training of the monks of the Shaolin Monastery that lead to Shailin Kungfu. The detail of the carving, in the old, bearded and haggard face of the Chinese Buddhist sage, I felt the smooth surface of the wood and looked into the depth of the colors in the veins of the wood… it was love at first sight!


"The detail of the carving, in the old, bearded and haggard face of the Chinese Buddhist sage, I felt the smooth surface of the wood and looked into the depth of the colors in the veins of the wood…it was love at first sight!"
DISAPPOINTMENT
After 2 hours of selecting statues and falling in love with everyone I held in my hands, I started the typical back and forth banter of how to organize payment, shipping, and export. Hang's face, although very happy to have me in his shop, turned a little sad and started to tell my friend Lan "You cannot export these statues out of Vietnam". Those were the sad words Lan translated for me. Apparently the wood these statues are carved from is prohibited for export out of Vietnam to the United States. I have been exporting from countries all over Asia for over 20 years now, and if I stopped every time I heard this I would not be in business. There is always a way to get it done!
I called my shipping agent in Da Nang and she told me that it is indeed illegal to export the statues because of the wood they are carved from. The statues are carved from slow growing hardwoods which are illegal to export from Vietnam along with every country in Asia. The reason these statues are still sold in the Vietnamese market, I've found, is because there is still a market within Vietnam and an illegal underground business of smuggling to the Chinese market. My heart imploded in my chest! To have a whole village with groups of artists like Hang, full of stunning statues and to not be able to show them to the world, show them to you… just awful! I traveled days to get here, 23 hours on a plane, all to be told it is not possible. I went back to the hotel, to sleep, feeling dejected and utterly disappointed.
I spoke with my shipping agent in Vietnam, Le, who I have worked with for years exporting white marble. She told me about how numerous shops in Hoi An in the south of Vietnam had to close down because they were unable to export to tourists. The export ban destroyed the livelihood of a whole village.
I knew there must be a way around this… I woke up at 3:30 in the morning, thank you jet lag, with a light bulb idea. I sent off a flurry of emails to my shipping agents in China and Cambodia, and Vietnam. I thought, I can ship the statues overland to either China or Cambodia and then ship them to the States from there! Genius! I sat at my computer and waited for the world to wake up…
ACCEPTANCE
After a predawn run around the Hoan Kiem Lake in Hanoi (I love Hanoi!) I returned to my room to check for responses to my emails. Summed up in one word the responses were, NO. The statues are illegal. They would be confiscated at the border. If you did get them across the border you would not be able to export them from either Cambodia or China as the woods are illegal there as well.

On a larger scale my mind started to think about this issue as well. Why are these woods illegal? In thinking about it, the answer was obvious: deforestation. With a deep love for animals I understand the need for wildlife in their own environment. If I was in some way a part of taking away a tree branch for the endangered Black Crested Gibbon to sit on, or the shade for an Indochina Tiger to sleep under, then I would rather not be a part of this in any way. In understanding why these slow growing trees are illegal I was OK with not being a part of the problem. After digesting this in the morning I knew that I would be Ok leaving Vietnam without these statues.
HOPE

I still had plans to meet with another artist from another village for the day. A young man by the name of Bang. Before setting out I knew I could not export his wood statues but my love and curiosity for them and the people who make them fueled my soul. Bang is a young artist whose family has been carving wood for 2 generations. His father started the business and he and his brother now run it.
Upon entering his small shop my heart immediately swelled again, taking in all his beautiful carvings. I always find it amazing how styles and composition change from village to village. His statues had an entirely different feel. More refined than the rustic and natural carvings of Hang.
After going through the entire process of falling in love and my heart breaking at not being able to export these beautiful statues, another light bulb went off in my head! What if, instead of using illegal, slow growing wood, we could use legal faster growing wood? This was righteous on so many levels! I could give the artists in Vietnam an alternative, something legal and sustainable. I could then do my part to prevent deforestation of old growth trees by providing a profitable alternative in using legal, faster growing trees. I could help reinvigorate life into the carving industry, making it Ok to export once again!
It is a plan that is in the works now… I am not sure it will come to fruition as there are many new licenses that I must obtain. If you have ever dealt with Asian bureaucracy then you will appreciate how difficult this can be! But I have hope that with the help of my shipping agent, Le and the artist, Bang and Hang, my plan will work.
We want to do this the right way – to keep this beautiful art alive.
You, our loyal customers will be the first to know if it does!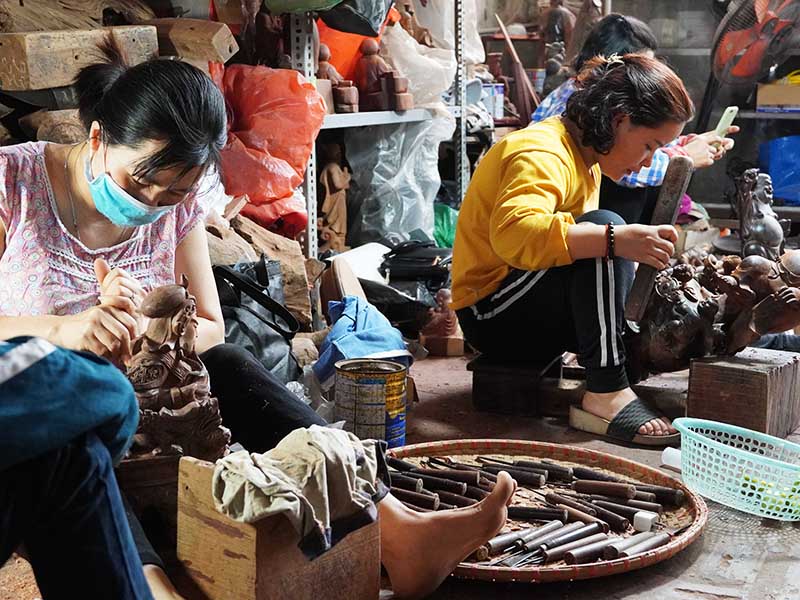 UPDATED MARCH 20, 2020
We have exciting news! We have found hard, fast growing woods which are legal to export from Vietnam. I have placed an order with Bang and look to have these statues for sale in late 2020!
Be sure to subscribe to our newsletter, at the bottom of the page, for more stories about my buying trips. By signing up you will also be the first to find out when these statues arrive, and receive a sneak peak at what these statues look like when completed.