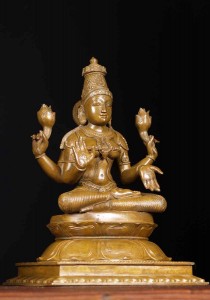 Mantras are believed to bring in harmony and peace of mind to the devotees who faithfully chant it to please their favorite deities. Chanting mantras can relieve mental stress, strain and even help in maintaining a normal heart rate. The word "mantra" is derived from two Sanskrit words "manas" and "trai", which literally means "to free from the mind".  From recent medical studies it was found the chanting of mantras in the right form evokes the production and spreading of the certain chemicals in the brain, which improve the health and the mental status of the devotee.
As per Hindu mythology, each Hindu God is associated with a moola mantra which when chanted in the specified time and period, will serve different purposes. The most evoked mantras are devoted to Lord Ganesha, Shiva, Hanuman and the Hindu Goddesses Lakshmi, Durga and Devi.
The Goddess Lakshmi is the Hindu Goddess of wealth, luxury, beauty, power and prosperity.  Her mantras are evoked by most of the entrepreneurs as they believe that She will be pleased and bring fortune to them.  One of the most chanted mantra of Goddess Lakshmi is as follows:
"Sarvagyay Sarvavarday
Sarvadushtbhaydkree Sarvadukhaharay
Devi Mahalakshmi Namostutay"
Meaning: O Goddess Maa Lakshmi, you are aware of everything; you bestow blessing upon all and defend us from the evils. You remove all miseries of life. Oh auspicious one, I surrender myself to you.
"Siddhi Buddhipraday
Devi Bhuktimuktipradayeenee
Mantramurtay Sada Devi
Mahalakshmi Namostutay"
Meaning: O divine Maa, you are the one who gives me all success and intelligence. You bless me with all the worldly pleasures, wealth and freedom. The magical words in the mantra comprise your grace with form and Mother, I surrender myself to you, always.
"Aadhantarhitay Devi
Aadhshakti Maheshwari
Yogajay Yogasambhutay
Mahalakshmi Namostutay"
Meaning: O Mother Supreme, your art does not have a beginning or end. Your art is the primal power. Your art is born out of Yogic practice and manifested through yoga. O Mother auspicious, I bow to Thee.
"Sthulsukshmay Maharodray
Mahashakti Mahodray
Mahapaapharay Devi
Mahalakshmi Namostutay"
Meaning: O Goddess Lakshmi, your art gross and subtle, most awful and dominant. Your art encompass even the smallest things, and saves us even from the greatest sins. O Mother auspicious, I bow to Thee.
"Padnaasanstithay
Devi Parbrahmaswaroopeenee
Parmashree Jaganmatra
Mahalakshmi Namostutay"
Meaning: Maa Lakshmi, you reside in the heart of the faithful devotees and verily art the supreme Brahman. Your supreme art depicts that you are the mother of the universe. Promising Mother, I surrender to you.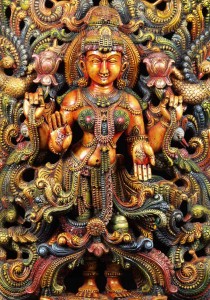 The Hindu Goddess Lakshmi is the consort of Lord Vishnu and is known as the Empress of Satyug. The Goddess is depicted in different forms, to bestow blessings and save the devotees from evils. Evoking the mantras of Goddess Lakshmi will bring peace and prosperity to your home or business.