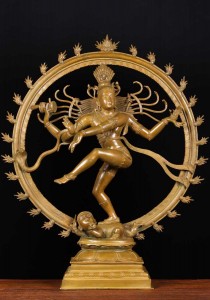 When many first hear of the Hindu God of Destruction, Shiva, they automatically think of something evil or alarming.  They think him something to be feared.    Yet, his powers are constructive, not just destructive.   He brings about necessary and beneficial transformation.   It can be said that the world is in a constant state of flux.   Just as life is given at birth, so too must it eventually cease to exist.   In that same regard, the world is constantly evolving and partaking in birth, deaths, and rebirths.
Hindus believe that Hindu God Shiva is responsible for the destruction of the universe in order that he may then re-create it into a more perfect form.  They believe that even now he infiltrates the world in order to shed illusion and destroy the worlds many imperfections.  Not only is he the Destroyer, he can also be thought of as a god of change or formation, causing a constant cycle of destruction and creation in order to bring about necessary good.
There is no doubt that the world as we know it houses many flaws.    In order to bring about real change, Hindus look to Shiva to re-create the world in a better image.  Worshipers look to him for guidance in ridding their troubles.  They may pray upon a Shiva statue so that he may bring about renewal in the world.  Many worship Shiva as their primary God.   Join Hindu's around the world in worshiping Hindu God Shiva for both his destructive and constructive qualities.
Bring a Shiva or other Hindu statues into your home or place of worship from Lotus Sculpture.