I first came to South India as a backpacker when I was 24. When Lotus Sculpture was just a budding idea in my head I had the good fortune to initially meet some of the artists that would help shape my ideas for what I wanted to do in my life. I have happily spent the day with two of the people who have had a profound effect on me and Lotus Sculpture: Murugan and Baskaran. When I first meet Baskaran I was full of energy thinking of the possibilities for what we could do together. Of course, he took me for just another tourist with big ideas who he would never see again. Except for 3 months later I was in his shop again buying statues from him and thus our business relationship was born! His star worker was a sculptor named, Murugan. Murugan has since started his own shop and now I actively buy stone sculpture from both Baskaran and Murugan. Both Baskaran and Murugan are the best stone artists in my opinion in all of India. They have the uncanny ability to transform stone into a living, breathing Hindu God!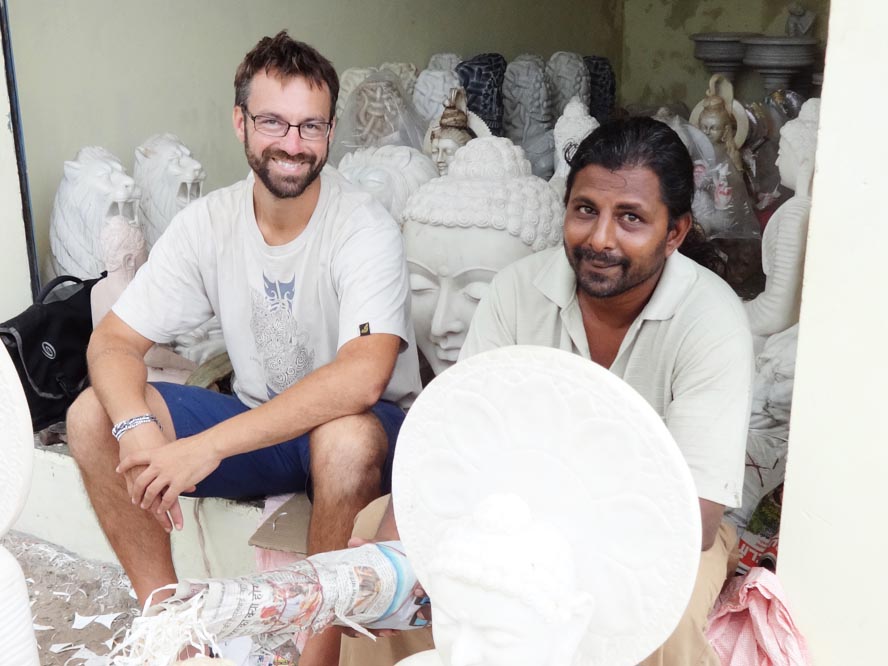 I arrived at Murugan's workshop early in the morning. I was happy to hear from him that he has started construction on a new home for himself. I have been keeping some of the money I owe Murugan in my account. He told me today, "If I had it here I would spend it. I wanted to save it for my house. if it is with you I can't spend it." We spoke of future plans for some statues I have in mind. I believe I will be ordering three statues that are all 4 feet tall, a meditating Shiva, a Japanese Buddha, and an Avalokiteshvara statue. I love his meditating Shiva statues and I think I may be keeping his next creation for my home.
They have the uncanny ability to transform stone into a living, breathing Hindu God!
I then crossed the road to Baskaran's workshop. Baskaran is doing quite well for himself. He now has 50 employees! When I first saw him he had only 10! He spoke to me about how hard it is to find employees. How many of his workers have left his shop because in construction or other unskilled labor jobs they are paying more salary? So many of the faces that I have seen over the years are no longer working with him.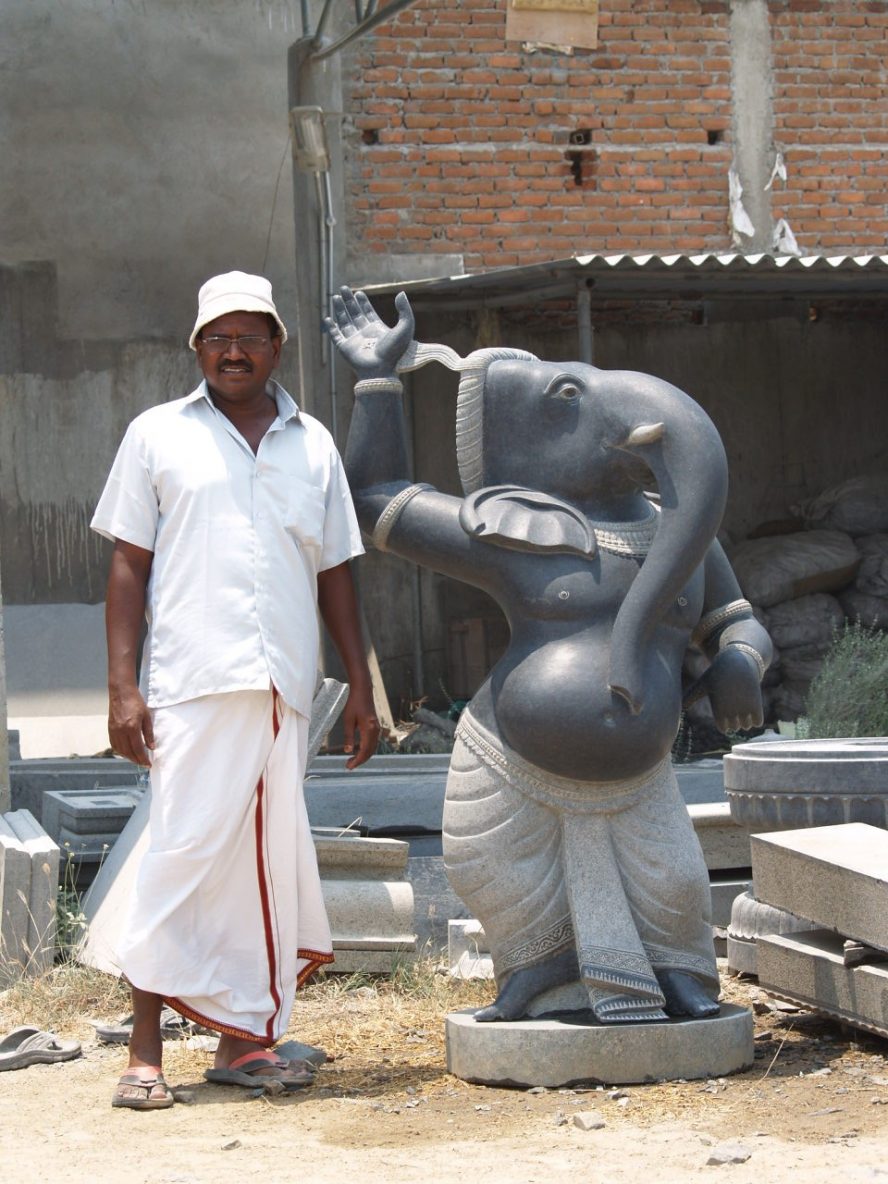 Baskaran carves the most unbelievable Buddhas and Ganeshas I have seen in India! The Buddhas are simply stunning and the Ganeshas make you want to just hug them. I ordered 2 large Buddha sculptures from him last year. There are some minor changes we needed to do; polishing the skin and making lotus bases. I hope to have the statues ready and in Oceanside, CA by September 2012.
Tomorrow I am taking a 5-hour ride into central Tamil Nadu to visit the small village where they carve wood. I will meet the brooding Natarajan and his brother who are the main artists of the village. I am looking forward to seeing the sculptures that I ordered from them. Hopefully, they will be completed.
By the way, it is hot. H-O-T, HOT! 5 hours inland it will be even hotter than it is here by the seashore.