Shiva, Hindu God of Destruction, is also known as Nataraja, Lord of Dancers, in one of his most popular forms.  He is depicted as sacred dancer, dancing to restore the universe of its fatigued nature making way for Brahma to create within the universe.  He has a restorative power revitalizing the universe and preparing for growth.  Shiva as Lord Nataraja is his most popular within Hindu temples. His likeness is often sculpted in bronze as Shiva dances around a ring of flames.  His left leg is often raised balancing over a lesser being that stands as a metaphor for the ignorance of the world.  Shiva as Nataraja is a powerful symbol of Indian culture for its spirit and energetic nature.  He represents the precise flow and generation of the universe.  Shiva as Nataraja is perhaps the most renowned symbol of Hindu art.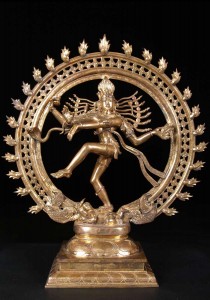 Shiva's dance is often said to come in two forms.  The first form represents the gentle, or the nature associated with creation upon the earth, while the second from is said to be that of violence as he destroys the tired and suffocating ways of the universe.  Shiva terminates what is weary in order to create what is profound. He tears down the old in order to make way for the new.
Legend has it that one day Shiva journeyed to a thick forest in the South of India in order to confute with the multitude of heretical sages that lived within.  Traveling with him was Hindu God Vishnu, The Preserver, disguised as a woman.  Upon arrival, the sages became very angry towards Shiva and attempted to destroy him via powerful incantations.  They first induced a violent tiger which was no match as he skinned it in one foul swoop and draped it around his body like a blanket. Next appeared a deadly serpent of which Shiva quickly overtook and hung like a necklace about his neck.  Through all their confrontation simply Shiva danced about their ring of fire laughing, destroying everything they threw his way.  Thus, Shiva became the lord of dancers, a symbol of the divine.