"I am the All-Knowing, the All-Seeing, the Knower of the Way, the Opener of the Way, and the Preacher of the Way. Come to me, all you gods, men, and demons, to hear the law".
~Lotus Sutra, Chapter Five~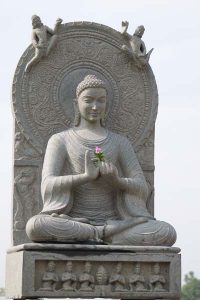 Buddhism and Buddhist art has traveled a long way from its simple beginnings. In the earliest Buddhist art of India, the Buddha was not represented in human form. His presence was indicated instead by signs, such as an empty seat, footprints, or space beneath a parasol. It wasn't until the 1st century AD, when Buddhism expanded outside of India, when the human image of one Buddha came to dominate the artistic scene. The Golden Age, otherwise known as the Gupta period, from fourth to sixth century AD, adopted an 'ideal image' of the Buddha.  Gupta Buddha statues, popularized with their eyes cast down, as if in a meditation state, and enriched with a spiritual aura, became the model for future generations of artists.
Throughout history, artists have given their own spiritual interpretation of the Buddha statue, but a few physical non-human characteristics continue to represent the nature of the Buddha.
"The All-Knowing": The Bump of Knowledge; the uppermost bump at the head of a Lord Buddha statue. This symbolizes spiritual wisdom and a fully-developed top chakra. Chakras are believed to be centers of the body which a person can collect energy. This bump is typically covered with spiral shaped curls of hair that symbolize enlightenment.
"The All-Seeing": The Urna, commonly translated as the third-eye, is a circular dot positioned in between the eyebrows of a Buddha statue. It is viewed as an auspicious mark and symbol of the Buddhas enlightenment; his ability to see past our mundane universe of suffering and see the true nature of the world. Legend also says that Buddha had one strand of white hair in the center of his forehead, from which emitted rays of light to enlighten the world. Some traditions believe the location of the Urna is the sixth chakra – center of energy and wheel of light.
"The All-Hearing": As the art of Buddha sculpture evolved, superhuman characteristics became standard traits carved into the Buddha image. Among them are webbed fingers, very long arms, and long earlobes. The elongated ears are typically present in any given Buddha statue. This is an expression of the highest degree of respect. Long earlobes came to be a symbol of all who achieves enlightenment.