"Tension is who you think you should be.  Relaxation is who you are."

~Chinese Proverb~
With summer in full swing, it is a pleasant time to enjoy nature and relax in your garden.  A way to enhance and bring tranquility to any environment is to place a Buddha statue, particularly a portrayal of Buddha in a meditative state.  The positive and peaceful energy of a Zen Buddha sculpture helps keep you in balance and harmony.
First, to accentuate your garden, and to create the best possible chi energy, the meditating Buddha should be seated on a pedestal off the ground.  With the lotus throne, or padmasana, this position signifies gratitude and humility.  Typically, the Buddha's hands lies in his lap, one over the other, with thumb tips touching.  This is known as dhyana mudra of meditation.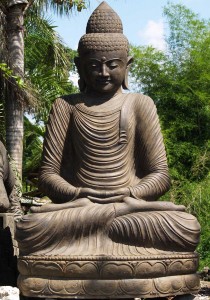 Another step is to plant with odd numbers in your garden to create balance and "yang".  Yang, which refers to the "sunny side", is a masculine symbol and reflects the sun and day time.  Since odd numbers are yang, they are considered auspicious, with a multiple of nine bringing the most positive energy.
Most of the large, stone garden Buddha statues at Lotus Sculpture are one-of-a-kind; created by artists in Bali.  They are hand carved from lava stone, which is quarried from the volcanic mountains of Indonesia.  The lava stone is a solid stone that is perfect for any type of location and weather conditions – hot or cold, wet or dry.  The stone is versatile in that it can be colored in a wide spectrum of colors.  It can also be polished or unpolished giving it a clean or rough feel.  In humid conditions, when left untouched, it takes on a very mysterious, antique-look as you would see in the temple ruins of South East Asia.